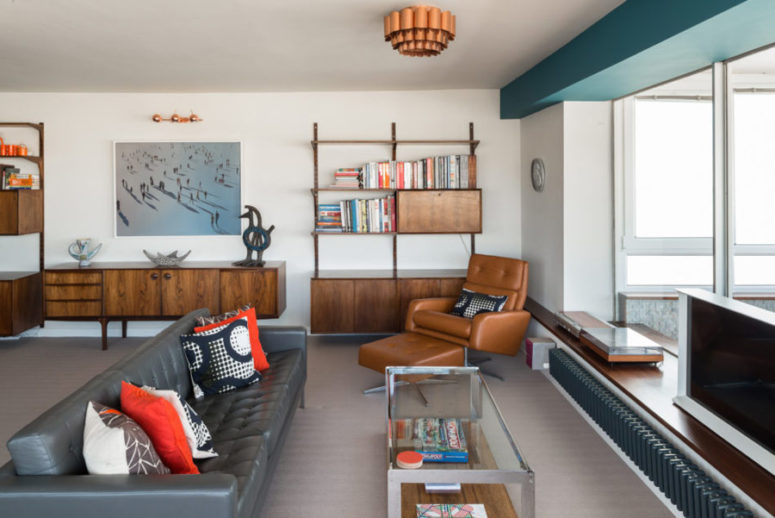 This Danish apartment shows how to combine mid-century modern decor with ocean touches right.  Positioned high above the seafront with views of the English Channel, this apartment is a gorgeous space to get inspired and steal ideas from it.
The apartment was redesigned by the owners, each piece here breathes and expresses unique qualities. Color blocking let the spaces look effective and bold, copper fixtures compliment the tones of the rosewood pieces. Teal and orange statement walls are a bold way to accent the space and give it an ocean feel.
The spacious and airy living room is almost united with the balcony, which is separated from the main space only with glass sliding doors, which allows much light into the room. The living room is done with stained wooden furniture, copper fixtures, touches of grey and white. The balcony wraps up the whole room along its perimeter, it features a small and cozy home office space flooded with light, a sitting and a dining zone – isn't it the best way to enjoy the views while dining?
The master bedroom is done in mustard shades, there's a large window, a printed floor, a bold artwork and some mid-century modern furniture. The guest bedroom is done the same way: with a patterned floor, a large window and some chic furniture. The kitchen is done in grey, white and yellow, with mosaic printed tiles, and there's a breakfast zone on the windowsill. Get more of this beautiful home below!