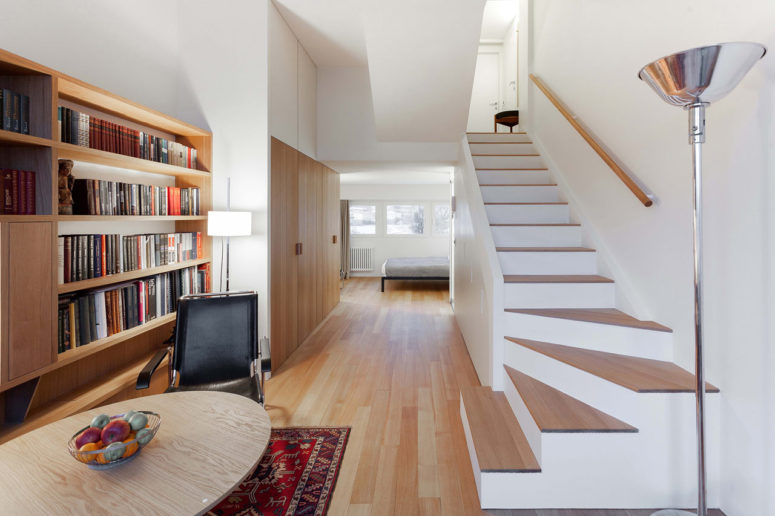 Modern designers surprise us more and more showing how you can accommodate everything you need on just some square meters. Studio Bazi cleverly packed this 33-square-meter (approx. 355-square-foot) flat full of storage and function making it feel much larger. Located in a historic house in Moscow, the compact unit belongs to a single guy who was looking to redesign the space with all the modern amenities.
The decor is contemporary, there's much white and light-colored wood to make the spaces warm yet filled with light, plus white makes the spaces look larger. A large bookshelf spans the wall between the kitchen and the windows and includes space to hang additional chairs. Utilizing the space under the stairs, a series of pullout cabinets act as the closet to store clothing and shoes. Next to that is the bathroom with the shower and sink. The toilet is located up the stairs – such a great arrangement of the spaces to accommodate everything.
On the opposite side is an oak cabinet that hides the kitchen complete with a refrigerator, sink, stove, and food storage, plus a washing machine, pullout table, and a curtain that pulls out to separate the bedroom and bathroom from the living room, which is a great idea to keep the sleeping space more private. This is a very smart solution, which saves a lot of space and declutters the space. Get inspired by all the solutions incorporated here!