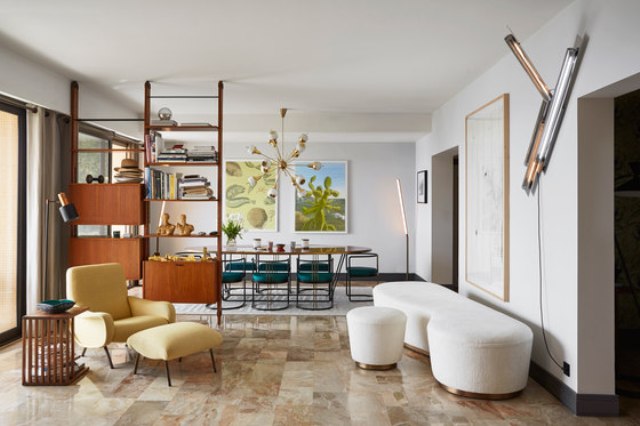 If you like mid-century modern interiors with a Riviera feel, today's home is sure to excite and inspire you. This is a large apartment in Monaco full of bright colors and iconic pieces, let's dive in!
The dwelling is 380 square meters with a 100 square meter balcony and was made up of 2 apartments, the decor and design of which was done with talented interior designers Humbert & Poyet. The building is straight out of the 70s, with a ceramic mosaic façade, it is the perfect link to an interior inspired by the iconic images of Monaco, Palm Beach and Palm Springs by Slim Aarons. The duo reflected their vision of the Riviera lifestyle creating timeless interiors while exuding discreet luxury. Inspired by the blending of French and Italian style, Humbert & Poyet wanted a mix of legendary French pieces from the 50s along with vintage Italian furniture.
The design is punctuated with touches of bright colour, printed wallpapers influenced by plants and breath-taking exterior views out over the Mediterranean. From the Art Deco styled lobby complete with red terrazzo flooring and smartly dressed members of staff the private elevators bring you into the apartment with a beautiful collection of mirrors to greet everyone. Some spaces include innovative furniture and objects, however these contemporary pieces fill the room naturally, with grace and pure harmony.