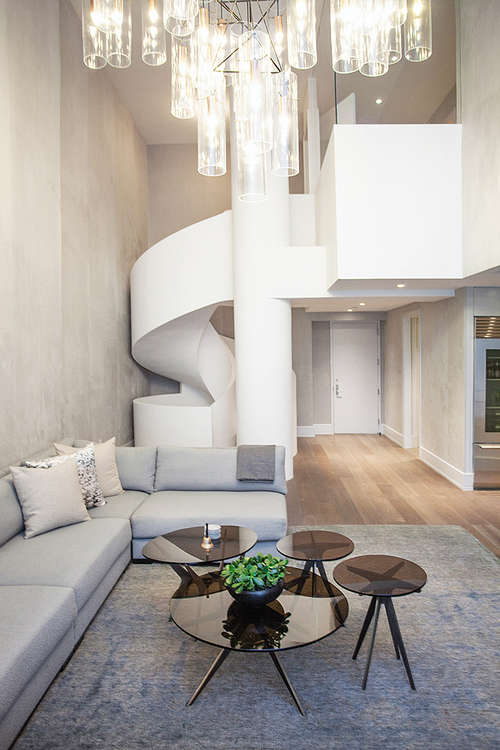 With a spiral staircase wraps its way upwards like a snake coiling languidly this NYC apartment is seriously sexy. The luxury level is high and there are certainly touches of bling but it's pared back, restrained.
The living room features a neutral color palette, chic and comfy sofas, a coffee table of an eye-catchy shape and interesting stools. The space features luxurious unique coffee table composition, cool artworks and a leather coach. Though the design looks simple, the refined materials make it special.
The master bedroom is done in pink shades and with rose gold touches for more glam. The headboard wall is pink agate printed, which is a hot trend in décor now. Pink bedding and textiles continue the décor theme, and rose gold touches add a bling. There's a comfy windowsill console that may be used as a desk or as a dressing table.
The kitchen is clad with grey and white marble. The cabinets are done white to contrast with the darker countertops. There's a large and comfy home bar with glass shelves to make it cooler. The dining area is mid-century modern one, there's a gilded metal base round table and a pendant lamp over it. a comfy sofa and stylish chairs in creamy shades complement the design.
The home office is moody and shows off unique wallpaper imitating reclaimed grey chevron clad wood. There are industrial open shelves, cool industrial pendant lamps over the light-colored wooden desk. You can see a cool grey sculptural sideboard with a LEGO wall art, this is a real eye-catcher. Get more pics of this beautiful space below!