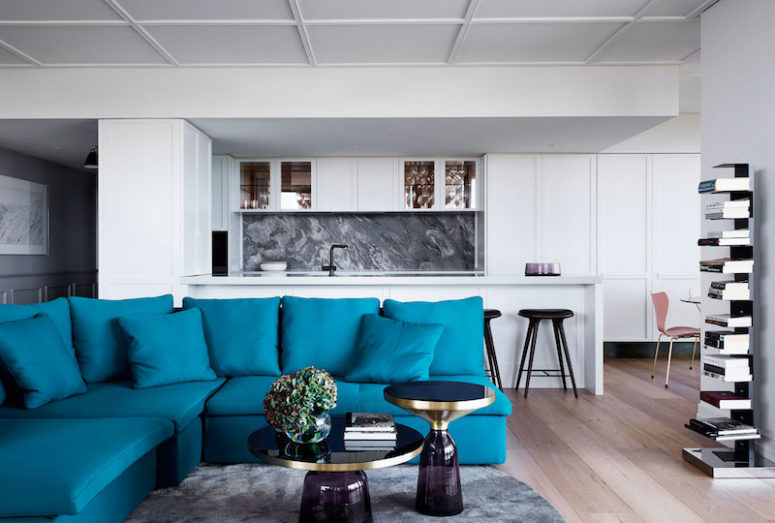 Understated luxury is what we usually aim for when decorating our homes but the results are rarely as spectacular and perfectly put together as in the case of this apartment in Melbourne, Australia. The project, named M Residence, was completed by Studio Tate, a practice for creating spaces with personality and being able to plan the big picture down to the smallest detail for extraordinary and memorable results.
The clients wanted their home to be a fresh and at the same time glamorous and luxurious space. The designers took advantage of its orientation which offered a wonderful view of the botanical gardens and made sure to maximize the view whenever possible. They chose black and white as a central chromatic theme for the decor and they complemented with backdrop with occasional pops of color. The living area is dominated by a gorgeous sectional in a peacock blue tone which is complemented by a custom area rug with shades of gray and metallic gold detailing on the coffee tables.
There are two dining areas. The main one features this elegant oak table complemented by vintage chairs and brass accents. An abstract painting in bright tones of red is displayed on the wall, serving as a focal point for this portion of the apartment. The second dining area is more casual and has a smoky glass table and chairs with pink seats and brass legs.
The spacious master bedroom lacks any bold and eye-catching focal points. It's decorated with shades of black, white and gray and the occasional brass accents in the form of sconces attached to the custom headboard. A faux fur accent chair and a vintage black and white patterned armchair are strategically placed in the corners, completing the decor.
For the guest bedroom the designers chose a combination of chartreuse yellow and blue and green accents with a white backdrop. Large abstract paintings add even more color to the room, creating a very vibrant and fresh ambiance.
The Hollywood glamour theme is characteristic of the bathrooms where the designers used green marble with pink veining and bronze mirror frames as well as other subtle elements which create a sophisticated and at the same time casual decor.