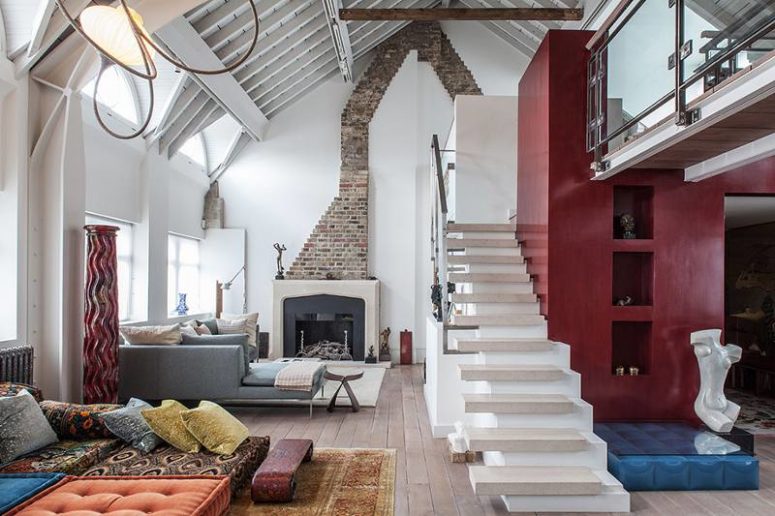 We are used to see a blend of boho and Scandinavian style, of boho and shabby chic style, or boho and gothic style but boho and modern? This private residence in Covent Garden, London by Caroline Cobbold Design mixes these two styles to get a whimsical and unique space.
This is a modern loft-style apartment with a strong personality, and there are so many details that you never know where to look first. The living space contains a traditional fireplace, a modern sectional sofa, a burgundy pillar and a part of wall in the same color. Here oriental floor cushions meet ultra modern sculptures and artworks.
The kitchen is sleek and modern, done in glass and blush wood. Everything here is hidden to achieve a n uncluttered look. I like the contrast between the blush veneer cabinets and an exposed brick wall.
The master bedroom reminds of a whimsical artwork. An oriental headboard, chest, pillows that echo with a bold red door. A vintage radiator, Eastern textiles and modern floors create a bold look and strike with its personality. The master bathroom is just crazy! The space is clad with copper sheets, and so is the shower, it reminds of a spaceship!
There's an attic home office, which is filled with light and looks very cozy. The desk is placed opposite the window, which offers adorable views. Books on the shelves work also as a decoration, and a leather couch seems to be inviting to relax a little bit.