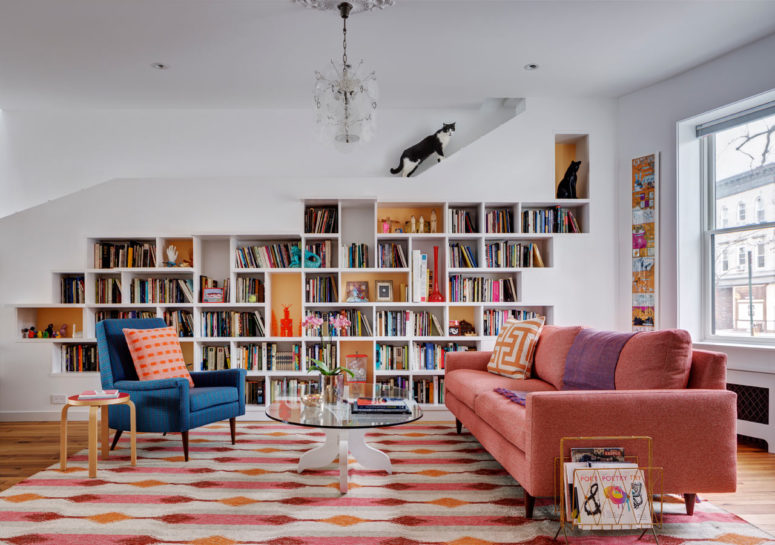 When two booklovers with two cats were looking to renovate their newly purchased row house in Brooklyn's Windsor Terrace neighborhood, they hired BFDO Architects to bring their vision to life. They desired a home that incorporated cool ways of bringing color and light into the space, while also giving each one a place to work. Their other two main requirements? Find a way to showcase their massive book collection and to give their shy cats places to roam and hide.
The main living area is open and spans 20 x 50 feet with 10 foot tall ceilings. The built-in bookcase goes from the front to the back of the house with an uneven ledge on top for the cats to walk and get away. Some of the shelves project out giving the cats places to climb. At either end of the room, they installed trap doors that allow the cats access to the floor above. Inset into the bookcase is a built-in piece of art by the owner that's a mini scene of a living room hidden behind a door. In the center of the bookcase, light cascades down from the roof from a skylight.
The dining space also features a lot of bookshelves, a black dining table and modern chairs with fuchsia seats. A sculptural lamp highlights the space and defines it. The kitchen is white, full of natural light and books! A large kitchen island features a breakfast space and again a book storage space. The master bedroom is colorful and bright, there are bold textiles and some cat-friendly pieces and artworks. Get more pics of these beautiful spaces below!