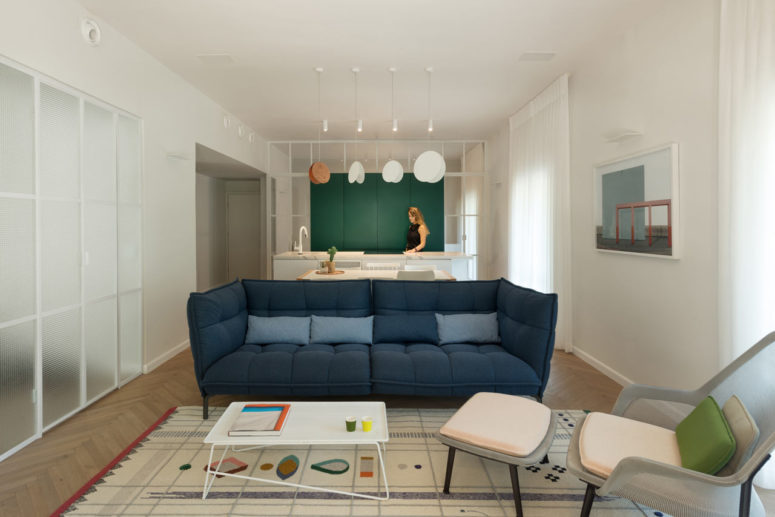 This Tel Aviv apartment located in a 1930's Bauhaus building was renovated by a whole group of architects: Amir Navon, Chen Navon, Lital Ophir and Ilana Bronfen. The 97 square meter apartment is located in the heart of the city with beautiful city views that can be observed from a large balcony.
Previous renovations left the apartment feeling dark and closed off, and with no real style. That was replaced with a mostly white, grey, and black color palette that was paired with moments of blue, green, and copper. They opened the apartment up and created a large communal living space that runs parallel to the balcony. With four access points to the outdoor space, daylight floods the interior now.
It was important to the designers to keep the classic details of the building's past while creating a modern look. Using carefully selected materials, like Carrara marble, safety-wired glass, steel, and herringbone wood floors, they give nod to its classic charm.
A large green cube was designed for the kitchen to provide storage and it was placed as a freestanding unit to give the space a feeling of openness. The kitchen's two-way island rests in the center, as does the dining room table and living room sofa, creating walkways between each to reach the balcony or bedrooms. The shared kids' room can accommodate two children with its built-in bed.