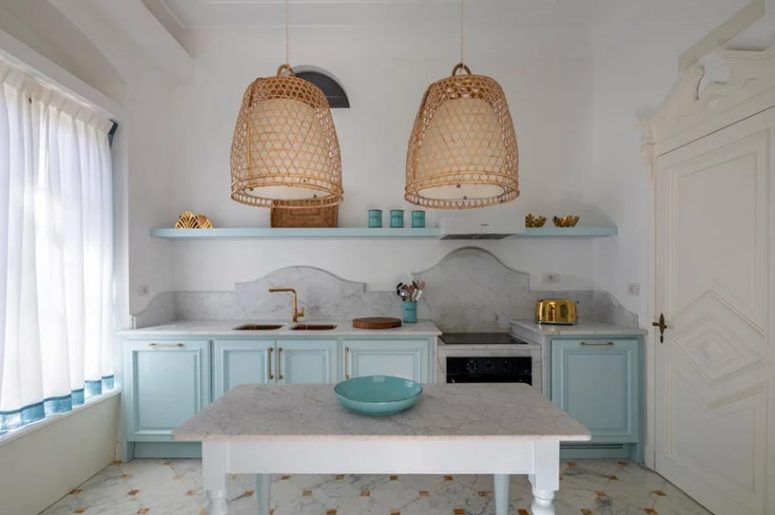 In the Italian coastal town of Forte dei Marmi, Pardini Hall architecture has completed the tasteful renovation of an existing apartment. Situated close to the famous marble quarries of Carrara, the design of '3VB' includes luxurious marble finishes, brass details, and a fresh color palette.
The design team retained certain elements of the original architecture but removed existing partitions to create a more open floor plan, allowing for a central dining space to be formed. The kitchen is articulated by duck-egg cabinetry, brass finishes, and marble backsplashes and floors. Sourced from the nearby Carrara quarries, the exquisite marble floor, which runs throughout the house, even features gold-colored 'giallo di siena' details. The kitchen is finished with cool-white stucco walls and two large wicker pendants suspended over the table.
This same combination of materials continues to the other rooms of apartment 3VB. The generous living room features original arched windows and doorways, which have been preserved. Next to the living room is the dining area, with two glass frosted chandeliers by Flos that float overhead, complete with brass touches.
In the master bedroom, the design team covered the walls with a jungle-esque wallpaper, which is mixed with bamboo furniture and green hues. white and black tones appear in the bathrooms, where surfaces have been lined with hexagonal marble tiles alongside faucets and old British-style sanitary ware. the second bedroom also features warm wallpaper and curtains, tempered by rich, mustard-colored dress cushions and brass light fixtures.