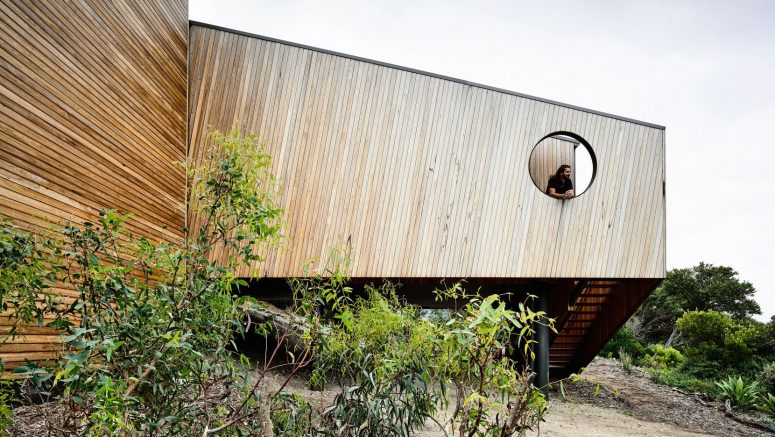 This family holiday home is gracefully embedded in the natural landscape, which is coastal dunes of eastern Victoria, and is built by Kennedy Nolan Architects.
The house is primarily built of timber suitable to its bushfire prone setting, with the exterior designed in grey in order to be eventually camouflaged amongst the rolling sand dunes. Unfolding across several levels due to the steep terrain, the house is centered on a protected inner courtyard designed as a refuge from the prevailing local winds and a mediator of the house's level changes, as well as a communal space at the heart of the family's beachside experience. Used as an entrance vestibule, the courtyard also connects the four zones the house is divided into: a living and dining area, master bedroom, children/guest wing, and bathroom. The pinwheel configuration evokes a sense of always being together without sacrificing the need for privacy, offering seclusion in the separate zones but also facilitating encounters either in an organized or a perchance way.
In combination with a minimalist interior design, the extensive use of timber, both for building fabric and furniture, imbues the house with a Nordic aesthetic. Sage and grey-painted timber wall cladding complement natural wood finishes, while stone floor tiles, rattan carpets, cotton fabrics and leather textures complete the subdued palette of natural materials and earthy hues. Sloping timber-clad ceilings that reflect the building's steep terrain echo the morphology of the coastline through their arched shape, thereby deepening the bond between the house and the natural landscape.