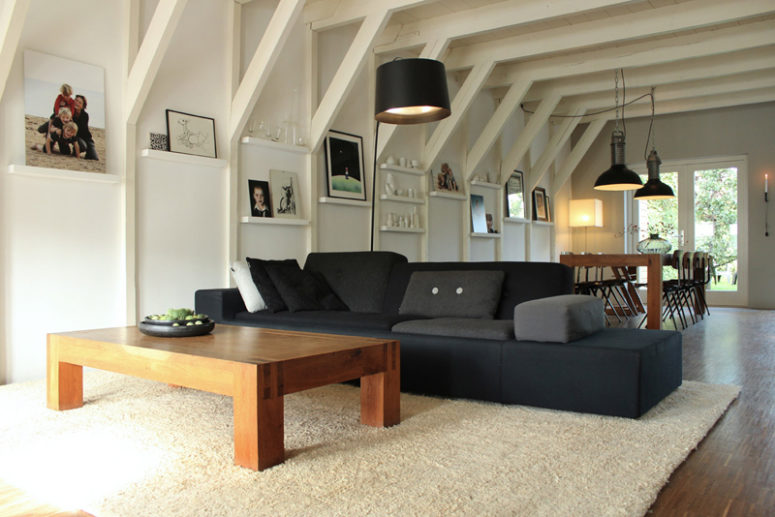 This comfortable and cozy living space is a converted cheese factory in the Netherlands and it was renovated by interior designer, stylist and author Marijke Schipper.
The base was left the same but the ambience and looks were adapted to the wishes of the clients, there's much natural light. The wooden structure with a lot of beams became a perfect frame, the walls were left white and the style chosen was modern. The beams were accentuated with white wooden ledges that display pictures.
There's a large open space layout with a kitchen, dining area and living area. I love the black sofa in front of white walls and rug and some natural warm woods on the floor and wooden furniture. Such a combo looks really modern and chic.
The dining area features a wooden table and some mid-century modern lamps and chairs, which look complementary. There's much potted greenery and some in vases, which enlivens the space. Look at this pretty black kitty, isn't it gorgeous? The kitchen has a subway tiles backsplash, an open shelf for dinnerware over it and some modern white cabinets with black countertops.
A black sideboard with a unique circles surface catches an eye. There's also much greenery on it and around it, and it connects different spaces with its cool design. A leather lounge chair seems to invite to relax and forget all the problems.
This former cheese factory really got a character and a new and fresh look, it's a great example of converting an industrial space into a cozy home, so get inspired and steal some ideas for your home!