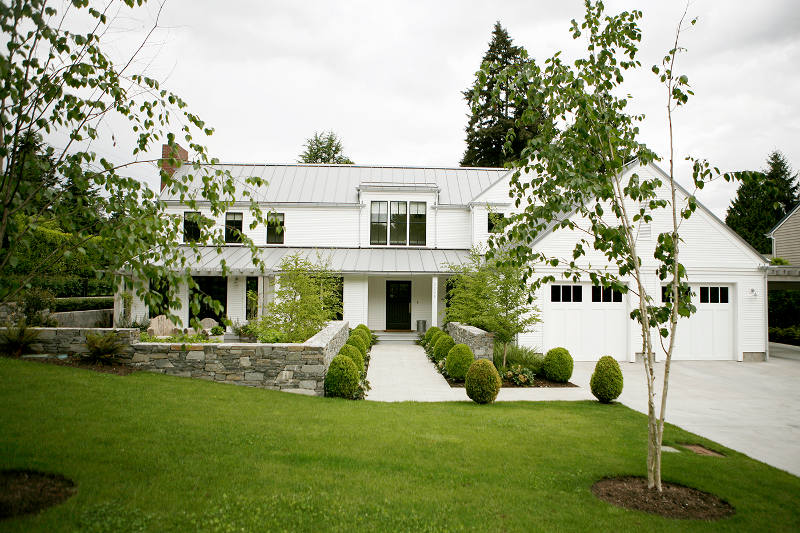 A contemporary family home with a farmhouse feel in Medina, Washington was created by Katie Hackworth from H2 Design + Build. Its paired down simplicity is a perfect fit within the lush Northwest backdrop. The house may be new but its contents have been carefully collected over time; crisp and white but warmed by lovely wooden floors and layers of texture, the house is very welcoming.
The simplified mudroom provides a convenient spot to drop your coat and bags after a busy day. A vintage wooden bench is an ideal find and opens up for additional odds and ends to be stored.
Katie pairs an old farmhouse table and iconic Louis Ghost Chairs in the dining room. A well suited setting for a late night dinner party or weekend birthday celebration for little ones.
The collection of furnishings and decor combine a wide variety of layered textures and materials, and focuses on finding beauty in the unexpected. Pops of color are used sparingly for impact and personality.
With exception of the kitchen, all storage options are either vintage or purchased with a a vintage feel in mind to help give the home a sense of history.
A humble art collection combines to create a unique and calming accent wall in the master bedroom.
Quirky and whimsical items are on display throughout the home, lending character and reflecting the family that lives within it.
A set of pedestal sinks, mirrors, and medicine cabinets allow for a less chaotic morning, while the tile lined tub becomes the quintessential setting for those long bath times.
White painted wood paneling adds texture to the walls throughout the home, and provide the perfect backdrop for artwork, fabric, and furnishings to take the lead.
The office is designed with five large double-hung windows wrapping around the Northeast corner and looking out over the backyard. An ideal set-up for working from home.
The abundance of evergreen shrubs and trees is a high priority to keep things colorful during the gray winter months.