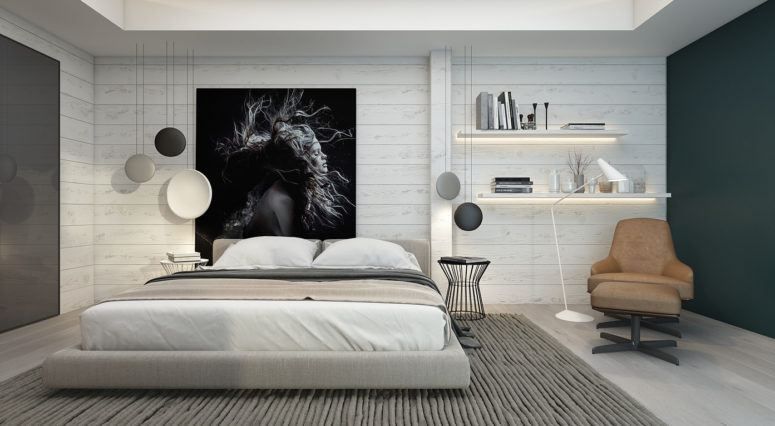 This modern apartment project was created by a Ukrainian designer. The décor style is mostly modern but there are different touches of other trendy styles like industrial or eastern.
The master bedroom is clad with whitewashed wood, and the floors are simply grey. A white upholstered bed is a cool comfy one, and disk pendant lamps and two nightstands contrast with this soft white. A large black and white artwork, a textural carpet and a green accent wall make the bedroom look eye-catchy. The master bathroom is clad with white marble and white wooden planks, a cool free-standing bathtub and similar sinks make the space look luxurious. Another part of the bathroom is clad with dark wood and there's a couple of showers.
The dining and living areas are united, here you can see modern furniture and vintage and shabby chic touches. The living zone is light and neutral, and there's a cool vintage hearth that is working. The dining area is a bold one, there are cool geometric lamps and a shabby chic framed mirror.
The kitchen is rather traditional, it's white with grey countertops. It's well-equipped and there's a large window to let the light in.
Another bedroom is also done in whitewashed Scandinavian wood, and the headboard wall is a dark one. I love an oversized Eastern artwork on the wall, and a TV unit opposite the bed is comfortable for those who love watching TV.