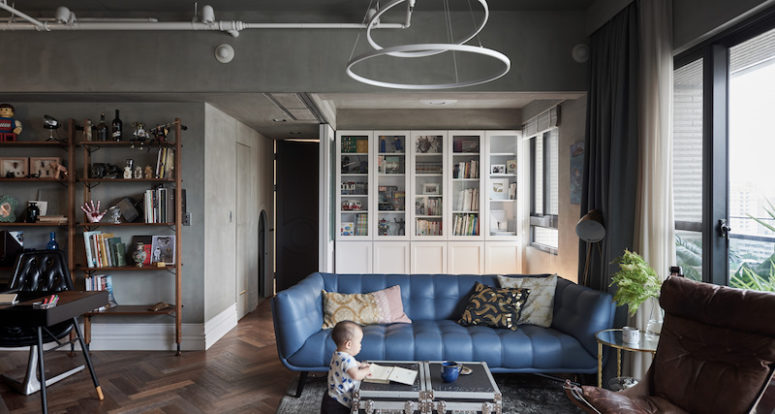 HAO Design were asked to renovate this house in Taiwan so that it perfectly suited the lifestyle of each family member. The challenge was that each person has different needs and all of them should have been taken into consideration while designing. The studio succeeded in doing that, let's have a look at the result.
The house is an eye-catchy combo of industrial and classic elements, it features the owners' personal taste and style while responding to the their needs. The interior floor plan covers a total area of 110 square meters organized into an open social zone and a private zone. The furniture is rather eye-catching, and there are some industrial elements, especially in the home office zone built for the husband.
The original layout was changed to fit the clients' needs, and the new kitchen is now adjacent to the balcony which has sliding glass doors that let in lots of natural sunlight. The balcony also includes a special area for growing plants outside which can be accessed directly from the kitchen – it's kind of an urban garden.
The master bedroom is decorated with tones of gray, white and blue which match the classical influences also featured in the living area. The decor and the ambiance here are tranquil, serene and relaxed – just like a bedroom should be, shouldn't it?
The kid's bedroom features a unique unit that comprises a bed and several storage modules underneath, which was incorporated because of the small size of the room. A chalkboard wall inspired creativity and saves the walls from being fully covered with images.