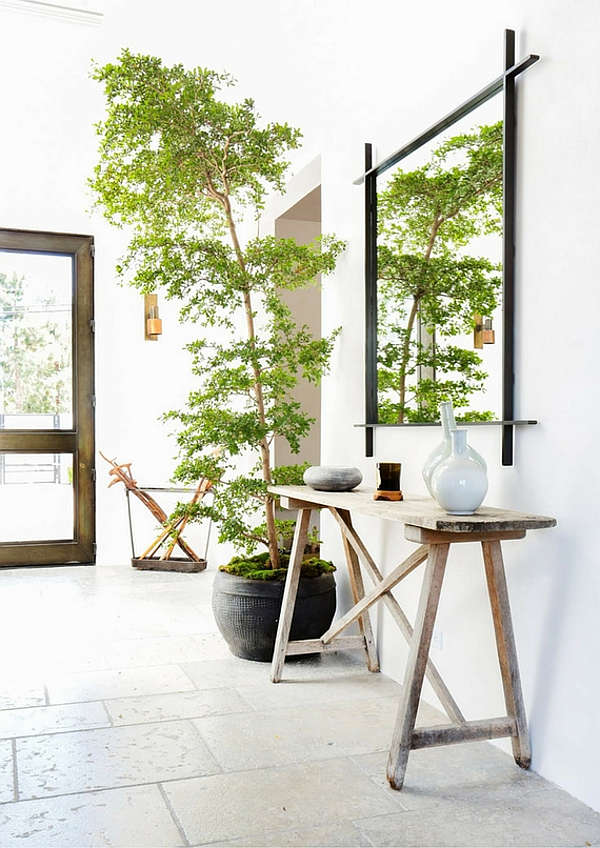 L.A. based interiors firm Alexander Design create spaces that are personal, luxurious and livable. Their work is a mix of contemporary, custom and vintage pieces, richly layered and carefully curated. It's all about relaxed family living that is stylish yet functional, chic yet authentic, effortlessly elegant. The designer's own home is the perfect example: it's neutral, natural and fabulous! Let's have a look.
The entryway strikes at once: it's totally filled with natural light, there's a rustic console table, a simple mirror and a tree in a large planter with moss – a great way to refresh the space. The kitchen is done with wooden floors and white glossy tiles, and I totally love the industrial furniture and touches featured here, all those chairs, a table and cool pendant lamps make the space unique.
The home office/studio shows industrial touches, too: there are blackened metal chairs with brown leather, lamps and a large wooden shelf with metal baskets. Here the designers work and create new projects.
The most adorable space in this home is a bathroom, it doesn't look like a usual one. There are white walls, light-colored wooden floors, blush curtains, a fireplace and an oversized towel holder. You can see a large and comfy bathtub, a potted tree and some artworks – it seems that you've placed a bathtub into a living room!
Next to it there's a master bedroom filled with natural light, with white walls and an attic ceiling. You can also see an oversized floor mirror, some artworks, and pastel bedding. Enjoy more and more spaces of this amazing home!