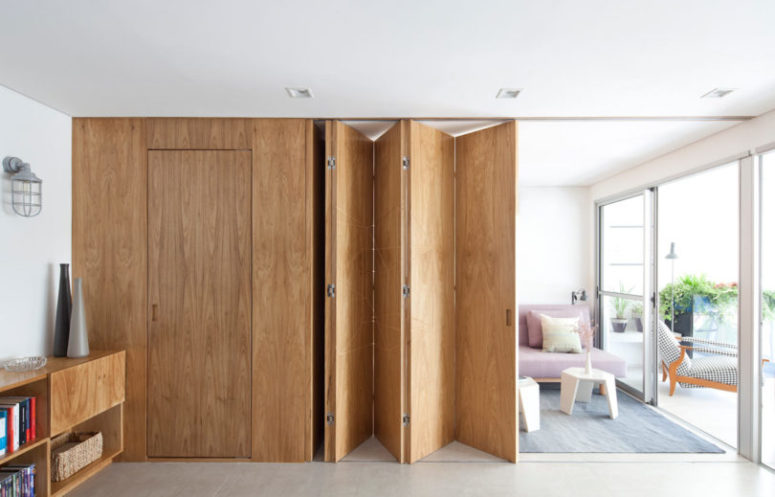 A flat in São Paulo, Brazil was designed by Metamoorfose Studio for a young couple looking for flexible spaces. In the main interior, a wood panel folds up to reveal additional living space, both linking and separating the environments. When closed, the panels display a geometric design carved into its surface for additional visual interest.
The kitchen design is modern and fresh, and the green geometric tiles echo with the wooden panel décor. I totally love the combo of matte black cabinets, warm woods and a white dining table; emerald geo tiles create an eye-catchy accent.
Behind the panel is a seating area that leads to the bedroom offering privacy when they decide to keep it closed. When folded up, the panel doesn't take up much space leaving the main living area feeling refreshingly large and open.
Right off the living room, kitchen, and dining room, there's a balcony that provides additional square footage. The seating area in the balcony features a large grey sofa, a comfy lounger and a panoramic window that can be covered with a screen for privacy. The balcony area is used as a cozy space for watching TV and movies.
The bathroom has a stone countertop, a wooden cabinet, a walk-in shower and a large mirror. Warm wood touches make the bathroom more inviting.