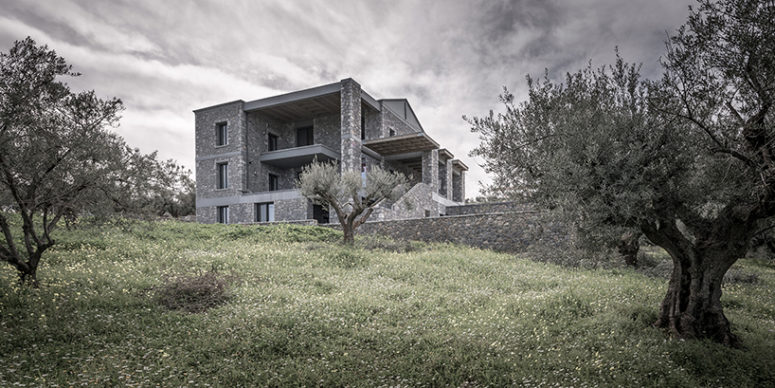 This residence in Greece was designed by Nikos Mourikis in earthy-colored materials and covered with freestyle masonry to perfectly blend in the olive grove where it's built.
The longitudinal side of the residence is placed facing north, separating the day and night living zones with two distinct floors. Auxiliary spaces are placed in the semi-basement due to the 18% site slope and the main atrium/terrace of the house is placed within the volumetric composition. The pitched roof and the composite construction from reinforced concrete and stone follow the earthly colors of the olive grove landscape.
A robust construction is filled with distinct volumes, leaving a large opening for the residents to visually interact with the surrounding nature and open vistas and connect the mountains on the south with the sea on the north. The cantilever elements are also placed within the volumetric envelope providing shades and protection from the wind.
The interiors show off minimalist style at its best with a plenty of natural materials incorporated to connect indoors and outdoors. The walls and ceilings are white, while the floors and some walls are covered with light-colored plywood to give the spaces a more natural feel. You can also see some stone and stone-like tiles in decor, which continue the idea of blending into natural surroundings. As for furniture, it's modern and maybe Japandi, it's totally laconic and simple yet comfy – everything inside is centered around the views, and furniture isn't very bold not to distract attention from them.