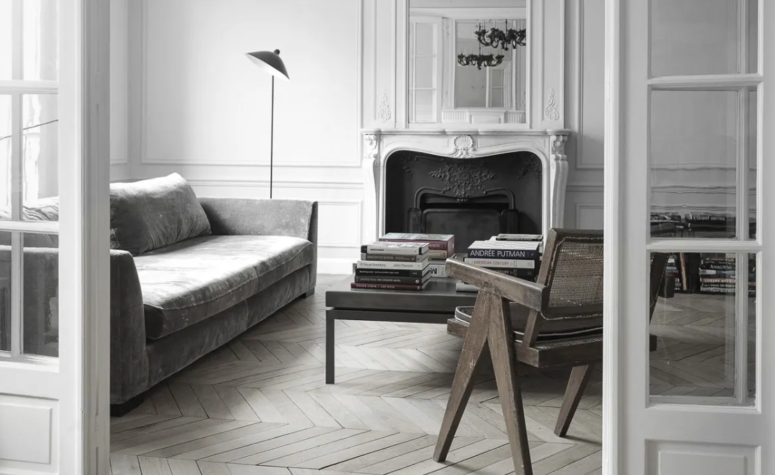 Nicolas Schuybroek Architects renovate and redesigned this Haussmannian apartment in Paris. This renovation exudes timeless architectural truth and embraces Wagner's idea of designing the whole project, from the architecture throughout the tiniest decorative details. The monochrome palette, the use of natural materials, and the election of architects' fetish Pierre Jeanneret's furniture make an overall simple – in appearance- and peaceful ambient. Let's take a closer look at the spaces.
The designers left the existing molding to highlight that this a Hausmannian apartment, elegant, refined and full of chic, and left traditional for such dwellings white walls. Parquet flooring was also done to highlight the existing style but all the rest in the apartment is quite contemporary or even minimal.
The furniture is chic and minimal, and a gorgeous grey curved sofa softens the living room. Rich tones of wood, leather and other materials soften the spaces that are done in a very minimal color palette. The lamps are done in black, with a very laconic look, black door frames and faucets make the spaces look cool and very contemporary. Take a look at the apartment and feel free to steal some ideas to make yours super elegant, too!