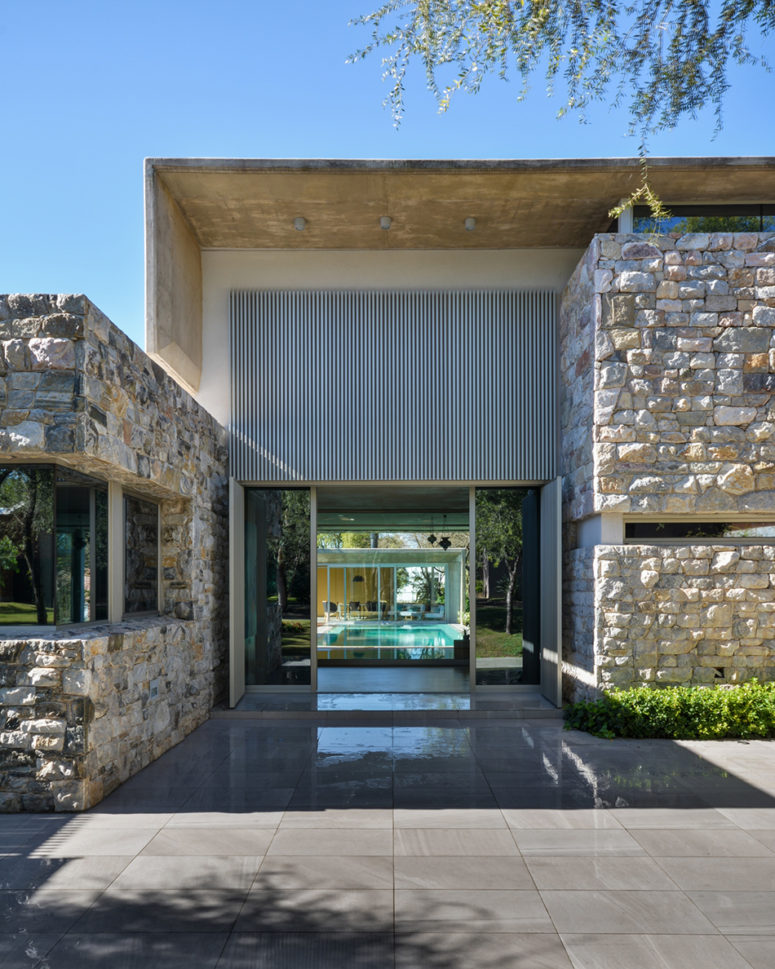 Designed by Grupo Urban, this two-storey house in the Argentinian city of Córdoba is surrounded by trees. Appropriately titled Casa del Bosque, the residence belongs to a family with a strong passion for art and design. The home's footprint was partially determined by the site's previously existing trees, many of which were spared rather than cut down. Not only is the vegetation visible from each room, but it also provides privacy — closing the house off from the street, and naturally enclosing the backyard. A separate concrete dwelling houses a fully equipped kitchen and grilling area.
Grupo Urban sought to design a spacious, naturally lit home that made the most of the region's warm climate. The scheme consists of a large elongated residence, with a separate concrete dwelling at the other end of the plot. It houses a fully equipped kitchen and grilling area, a dining table, and a lounge with a fireplace. A plunge pool is positioned between the two structures, bordered by wooden decking.
The main residence contains a service area, a kitchen, and a playroom at ground level, alongside a social room equipped with a TV area and bar. The large property also contains a children's bedroom, a library, a reading room and a mediation area that shares a visual connection with the pool and its surrounding trees. Top floor is designed specifically for the master bedroom, with a separate dressing room, bathroom, and sauna.
The architects used mainly materials such as wood and stone to integrate the house as much as possible with its natural surroundings. The same concept is brought to the interior space by providing as much natural lighting as possible thanks to the large openings strategically placed throughout the house.