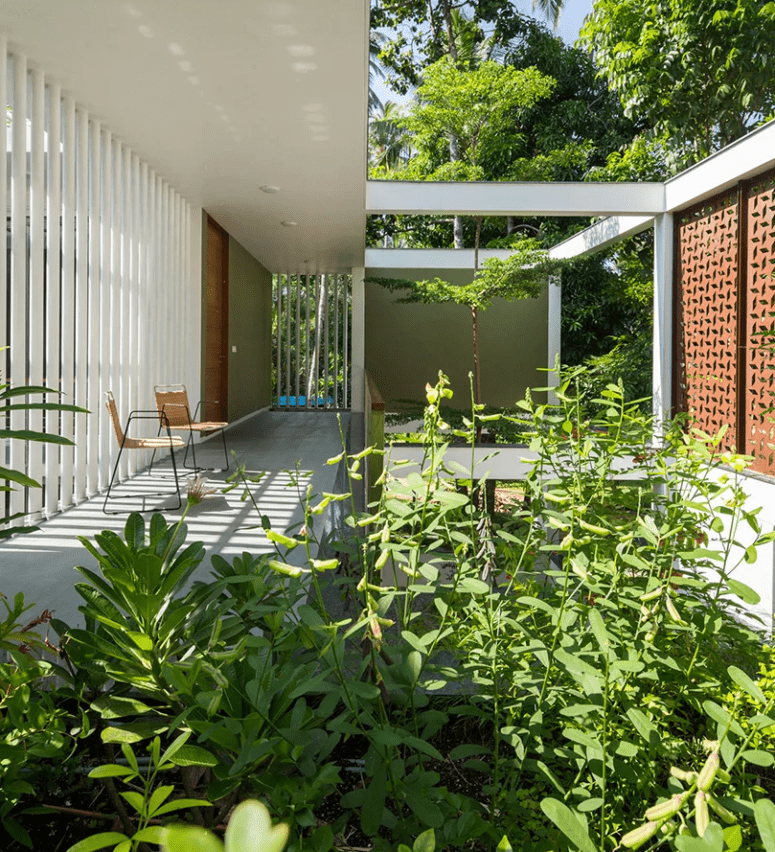 In Kerala, India, LIJO RENY architects has designed the 'regimented house' — a dwelling immersed in nature, which resembles a lantern glowing in the woods at night. The building comprises two floors. The ground floor of the primary building houses a duplicity of formal and semi-formal functions, while with the second part of the home has two bedrooms, one on each floor accessible by a staircase. The dining area is connected to the central courtyard by a bridge at the center of the home.
The clients were searching for a home that would deliver their desire for an inside-outside living environment with a strong emphasis on nature. Thus, LIJO RENY architects produced a grid layout with two blocks, separated by a landscaped courtyard that acts as a transitional buffer between nature and the building itself. The home's layout is designed to maximize the possibility of cross ventilation, adjusting to the seasonal shifts of winds that occur in the area. As a result, the residence serves as a natural thermostat by keeping the internal temperature comfortable throughout the year.
The decor of the house is contemporary meets minimalist: white walls, grey tiled floors and comfortable furniture – all that doesn't distract attention from the greenery oases. The whole house looks very harmonious and peaceful, this is a perfect blend of contemporary decor and natural touches.