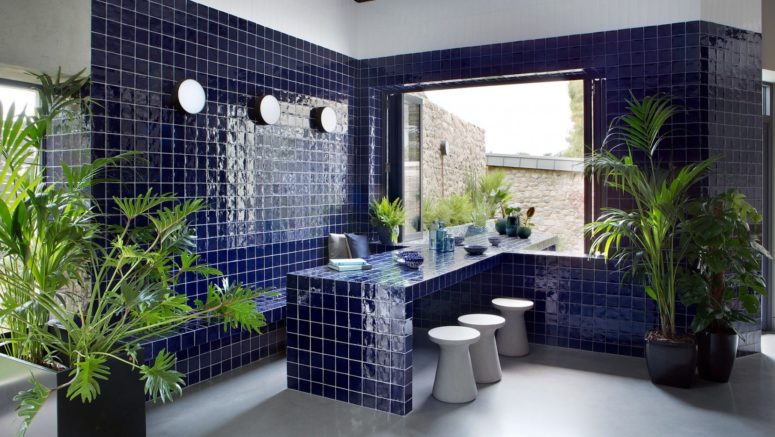 The Bolton Coach House in Dublin, Ireland is designed by local interior design practice Kingston Lafferty Design, the residence seamlessly unites a renovated 18th century coach house and paper mill, and a new extension of contemporary sophistication. Rather than imposing a uniform aesthetic, the designers have chosen to juxtapose the industrial heritage of the renovated coach house with the elegant minimalism of the new building, as well as eclectically apply a variety of different styles to define each area. The four-bedroom house effortlessly unfolds in charming poise thanks to KLD's free-flowing spatial layout that connects rather than separates rooms.
The common areas on the ground floor unfold as a multi-level, unique space that interweaves the historic building and the modern extension. From the vaulted dining area and intimate sunken lounge, to the minimalist, light-filled sitting room and kitchen, the designers have created distinct zones that flow into one another, offering multiple routes to navigate through the space. A fully tiled eating counter that straddles the boundary between indoor and outdoor further enhances the sensation of spatial continuity.
The house is a treasure-trove of playful juxtapositions seen in the paper mill's original stone barrel vaults which give way to three-metre-high ceilings, exposed brickwork, stone and rough plaster coexist with polished marble, walnut and brass, while poured concrete floors meet rustic floor tiles. The eclectic material palette also extends to the furniture selection which combines classic mid-century pieces with contemporary pieces of whimsical modernism.