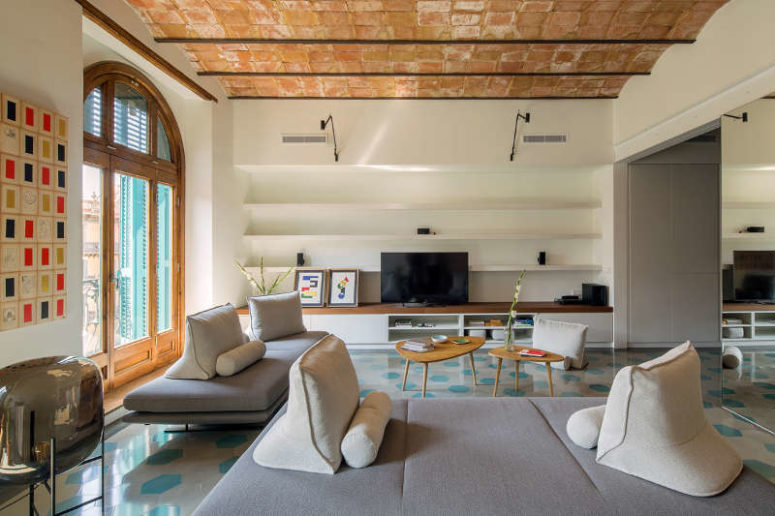 This apartment renovated by Nook Architects is located in the center of Barcelona. The space uses contemporary and warm finishes to highlight the original envelope, which is only altered to bring back a spirit more honest to the building's tectonics and to allow it to evolve to today's standard of comfort and living style.
To my mind, this space really reminds of Barcelona itself, with its unique and outstanding architecture and quirky and whimsy spaces. Look at the living room: the floors are clad with cool geo mosaic tiles and there's a gorgeous original brick ceiling. The windows are also left original, which highlights the charm of this building. The furniture is modern and very comfortable, and you can see modern lamps, which fill the space with soft warm light. There's also an "invisible" mirror pillar, which makes the space bigger and more interesting.
The kitchen isn't separated from the living room – only with a mirror pillar, there's a large white kitchen island with a dark marble countertop, some sleek cabinets around and behind it and very eye-catchy porcelain lamps over the island, that have cool shapes.
The master bedroom is done also with an eye-catchy detail: the bathtub is placed right here, next to the bed. There are no partitions between the bedroom and the bathroom, and the shower is placed right here, too. The storage is featured with sleek cabinets opposite the bed. Get more pictures of this bold space below!