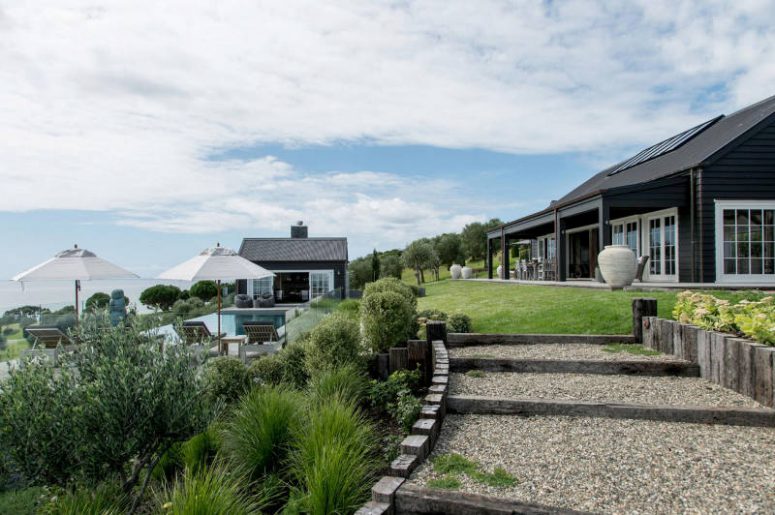 This coastal Barn House by Sumich Chaplin Architects has perhaps one of the most soothing designs I've ever seen.
Outside the Barn House reminds of a traditional Scandinavian one, with back shingles on the walls. The outdoor décor continues the idea with black loungers and a pool with a glass fence, which looks modern while blending with the surroundings.
Inside you'll see a mix of barn with subtle coastal style. The wooden beams on the ceiling highlight that it's a barn space and add coziness to it. Lots of wood in décor and some stone touches give the space a traditional look.
The color scheme is neutral and dusty: various beige and grey shades mix pretty well with whitewashed shabby furniture, which creates a relaxed coastal feel. The space is open-plan and absolutely harmonious, reminds me of the beach on a gloomy day due to its colors. White modern upholstered furniture and white covers on the chairs continue the décor theme.
In the other rooms turquoise was added as a subtle ocean-inspired color and some touches of dark grey for a contrast. The patio and porches are decorated with cozy traditional woven furniture, which suits both rustic and coastal décor.
All the rooms are opened to outdoors as much as possible: there are separate exits to the outside from each room, and some of them lead to the pool. Indoors and outdoors merge into one space and looks very harmonious together, there are very subtle transitions.