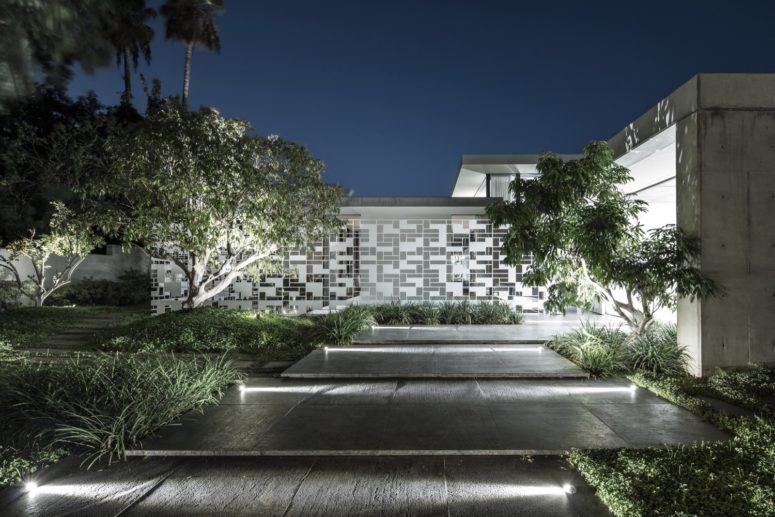 AB House in Israel was designed by Pitsou Kedem Architects and it consists of two, central boxes – one, a long rectangle constructed from exposed concrete, floats above the excavated yard and a reflection pool.
Both of the two, central masses are covered with a metal net, painted white. The metal netting is constructed in a recurring, geometric pattern that allows light and air to enter the enclosed spaces as well as the interior and exterior areas that it combines.
The netting meanders across the house almost as if it were marking out a series of contours. At times, it is ethereal allowing light and air to access the spaces.  Sometimes it is closed, acting as an entrance whilst at other times it is inlaid with a system of pivoting doors that allow one of the facades to appear dynamic and ever changing. During the day, the metal netting allows natural light to enter the building, creating shadow pictures on the concrete surfaces.
The same geometric pattern is repeated in different the building's interior design. For example, a metal wall that follows the floating stairs acting as a perforated balustrade.
The interiors are modern and edgy, glass, metal and polished concrete make them look chic and trendy. To make the spaces more eye-catching, the designers used different materials and textures, and made statements with sculptural lighting. As for the color scheme, it's rather dark and moody, yet there are some colorful accents, too. Get inspired by the pics of this home below!