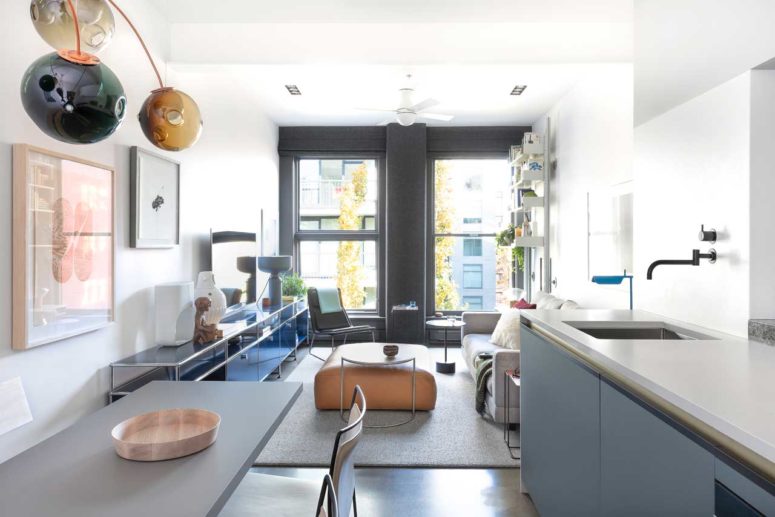 You wouldn't typically think an igloo would be the inspiration for a residential design but that's the case for the latest project from Falken Reynolds. Located in the historic Gastown neighborhood in Vancouver, this loft settles in at just under 600-square-feet with a design that looked to the compressed living spaces found in Canadian igloos. In order to incorporate lots of storage in the compact apartment, they referenced the tightened entryway of the igloo and created a central corridor that separates the main living space from the entry, bathroom, and office area.
The main living space feels light and bright despite its compact size. White walls and two large windows help bounce light around the interior making it feel open. The storage structure contains two five-foot closets, laundry, a drying closet, fridge, and pantries, in addition to a hidden staircase that leads to the loft bedroom. The bedroom is very minimal and peaceful, you may see a bed, a couple of bedside tables, some shelves and open storage by the bed.
The cabinetry was kept fairly minimal with hidden pulls and matte doors in a shade of blue. With so much storage relegated to the central white unite, the only upper cabinet needed was above the stove to house the vent. The home office nook is done with a comfy and stable desk, a colorful chair, a lamp and some art – such a nook enough to focus but still blends with the surroundings very well.