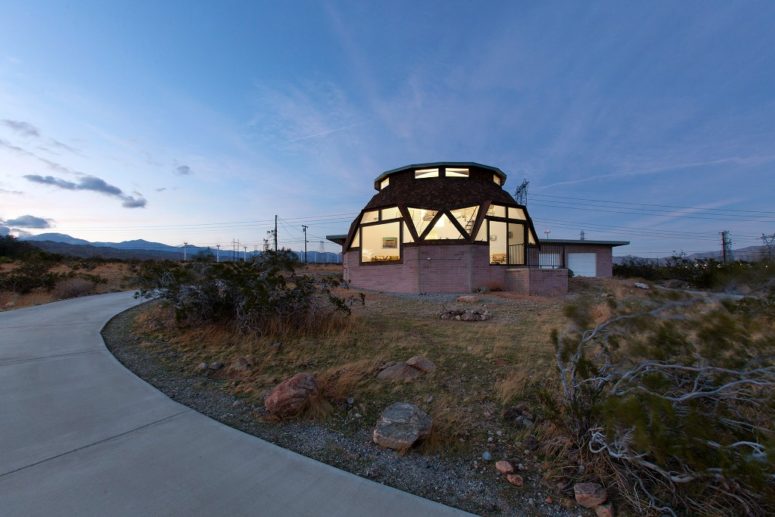 This dome-shaped house in Palm Springs was renovated by its owner, Los Angeles-based architect Pavlina Williams, who added new windows and created open-plan interiors.
The location of the mid-century house allows for 360-degree views of the surroundings, including Joshua Tree and Coachella Valley, as well as a collection of wind turbines. Built in 1956, the Palm Springs Dome House comprises a half-globe portion and a rectangular section.
The architect renovated her home from the inside-out, acting as the general contractor while gutting the interiors, and ripping down walls to create a light-filled space inside. The most challenging aspect was to install all the trapezoid and triangular windows in the dome. Now the house contains three bedrooms and three baths, with a sleeping area and bath in its lofted portion.
The owners updated the flooring to polished concrete and incorporated white surfaces and metal in her redesign. A new spiral stainless-steel staircase by Fontanot leads up to a lofted section in the glazed atrium. The interiors portray a combo of contemporary and mid-century modern design and furniture, and the kitchen features some industrial features like exposed brick and metal cabinets.
Attached to the side of the house is a smaller white geodesic dome that currently houses a fibreglass jacuzzi but the owners is planning to make a guest bedroom there.