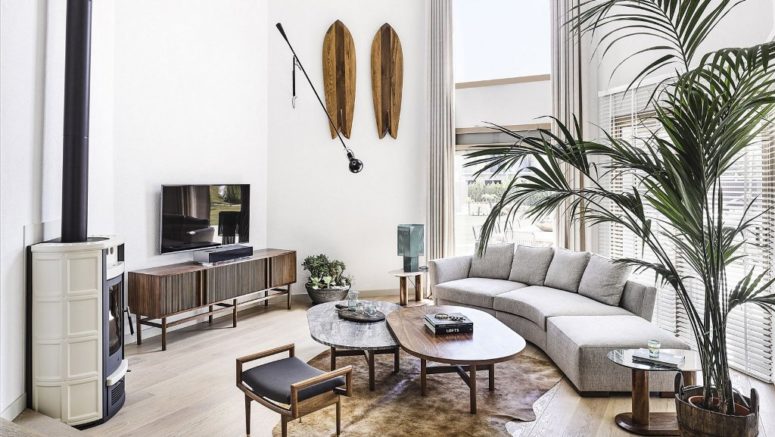 Located in Çeşme, the popular summer resort of Izmir, Turkey, Cesme House is a three bedroom residence by design studio Escapefromsofa. Inspired by the glorious Aegean summer, the designers have combined a modernist sensibility of light, neutral colors and simple, clean lines with a colonial style using natural materials and indoor plants, in order to create a welcoming house of sophistication, tranquility with coziness.
The interior décor marries contemporary Scandinavian and African touches filtered through a minimalist aesthetic of muted tones and plain surfaces. The use of natural materials such as wood, brass and marble provide textures and a subtle sense of luxury. The shutters seen throughout the house not only highlight the colonial style of the house but also tie up the spaces. The juxtaposition of oak floorboards and stone flooring on the ground floor separates the open-plan living area into two distinct zones. Natural materials are also predominantly featured in the furniture selection, most of which are bespoke, hand-crafted designs inspired by mid-century modernism and colonial interiors.
The architects have also taken great care to make their design as sustainable as possible, especially since the owners expressed a desire to use the house throughout the year. New energy efficient ventilation and solar heating systems guarantee energy savings, the reinforcement of exterior walls with natural stone ensures less heat loss in the winter and less cooling in the summer, while the selection of natural materials ensures the building fabric's durability and longevity in the humid Aegean climate.