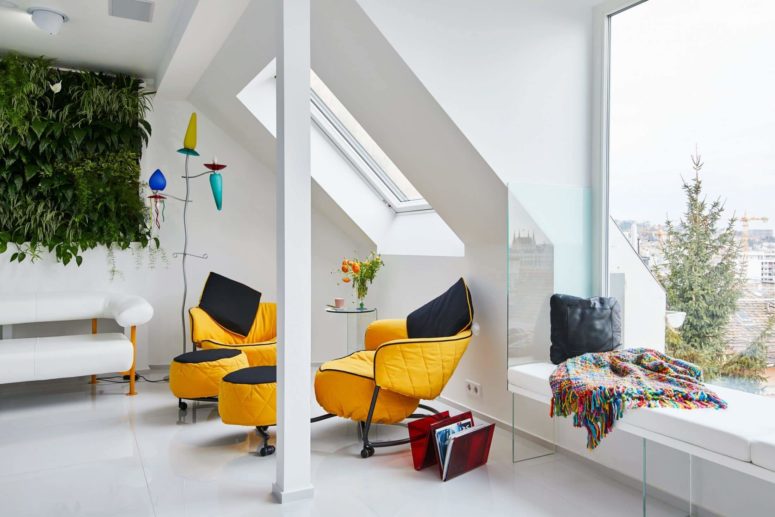 This remodeled apartment sits in a prime location, right in the heart of Budapest. This vantage point offers stellar views of the city, including the historic and beautiful Parliament building, while the terrace has a calming view of the nearby river.
The two levels of this 110 square meter (1,200 square foot) apartment holds the spacious living room, two bedrooms and a study, as well as a terrace that allows you to look out over the boats sailing on the Danube.
The brainchild of Margeza Design Studio, there are several signature touches the designers left behind. Energetic colors, whimsical details and large windows with natural light create a joyful atmosphere. the furniture is cool, dynamic and modern, it catches an eye. The rug in the living room is shaped like a map of Budapest, with a small red dot showing the location of the apartment.
A living green wall brightens up the living space. The pleasing ambiance and meta decorations, as well as the living wall, are subtle but brightening. The living room boasts an enormous window to view the cityscape below. Almost like a cinema screen, residents can watch the city as it changes from night to day.
One of the bedrooms features a cool oval bathtub and a shower cabin without any partitions: this is a trendy solution that allows keeping the space open and airy. Enjoy photos of this gorgeous trendy space below!