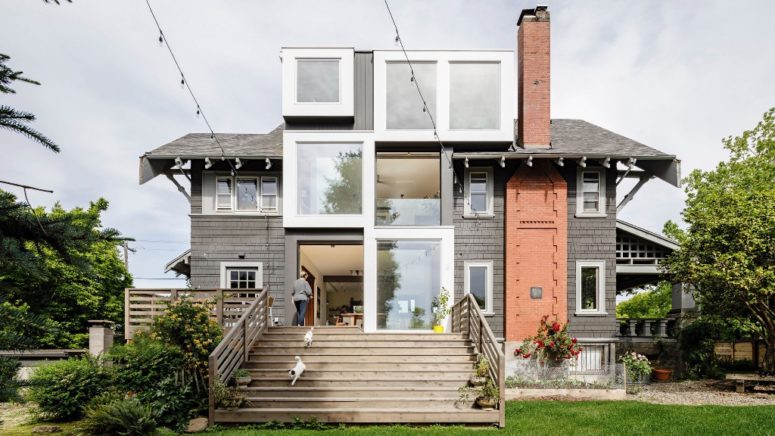 Portland architecture firm Beebe Skidmore has inserted a cubic volume with large windows into the middle of a 20th-century home in the city to add more space and bring natural light inside. The original residence is a sprawling Craftsman-style house that dates back to 1907 and features decorative woodwork, trim, cross-gabled bays, shingle siding, a brick chimney and broad open eaves with exposed rafters' tails. The addition replaces about 10 per cent of the shingled skin with the grid of windows, some of which form sliding doors.
The primary design intervention leaves most of the historic facade untouched — maximizing spatial impact with a minimum number of moves. Bold, white frames encase the large windows, drawing a contrast to the house's shingles, which are painted dark grey with a lighter trim.
The decor aims to brighten the interiors and includes white kitchen cabinets and white walls, alongside wood floors and baseboards that are in line with the home's historic charm. Contemporary pieces, lighting and accessories are also mixed with modernist furniture pieces throughout.
Inside the expanded residence comprises an open-plan kitchen and dining room on its ground level, along with a den, living room and foyer. A sliding glass door provides access from the dining room to an outdoor deck. On the top floor are a living area, a bedroom and a bathroom. A black leather mid-century sofa, bookshelf and desk fill the sitting room, which is encased with floor-to-ceiling windows. By opening up the pitch of the home, this upper part of the extension allows for more living space.
The home's original wood staircase was preserved, as well as interior window trim and baseboards. Upstairs is a master suite, family room, bedroom and bathroom. Sliding glass doors open to a private terrace off the master, whose en-suite bathroom features a free-standing tub.