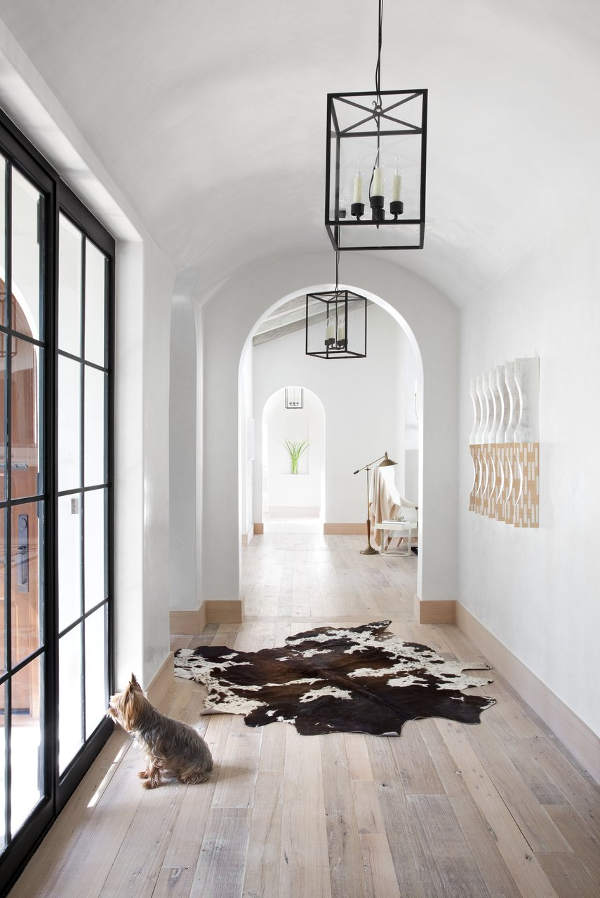 Today we are sharing a timeless home full of the owners' personalities created by architect Ryan Street & Associates and interior designer Elizabeth Stanley.
The style may be called a mixture of modern, traditional and rustic; all the spaces are flooded with light, and white as the main color reflects it perfectly making the spaces even lighter.
The living room features a fireplace, comfy upholstered furniture, rustic wood furniture. The floors are light-colored wood ones, and the wall are all-white. The space is of open layout, which makes it airier. The floors echo with wooden beams on the ceiling and a mirror in a wooden frame. There are some black accents like window frames, side tables and carpets, they make the space stand out.
The dining area is located next to the window, it's filled with light and features a round table, blue upholstered chairs and a wooden sideboard. An oversized white layered chandelier makes a statement, the space looks rather traditional.
The kitchen is chic and modern: there's light-colored wood furniture with white and black marble counters. A white hood and tiles perfectly fit the space, there's a breakfast nook with leather upholstered benches.
The master bathroom is pure luxury: it's clad with white marble and decorated with light-colored wood. One wall is covered with a mirror, it reflects the light and makes the bathroom look bigger. I also love a cool snitch-inspired chandelier over the stairs, it makes a cool statement.