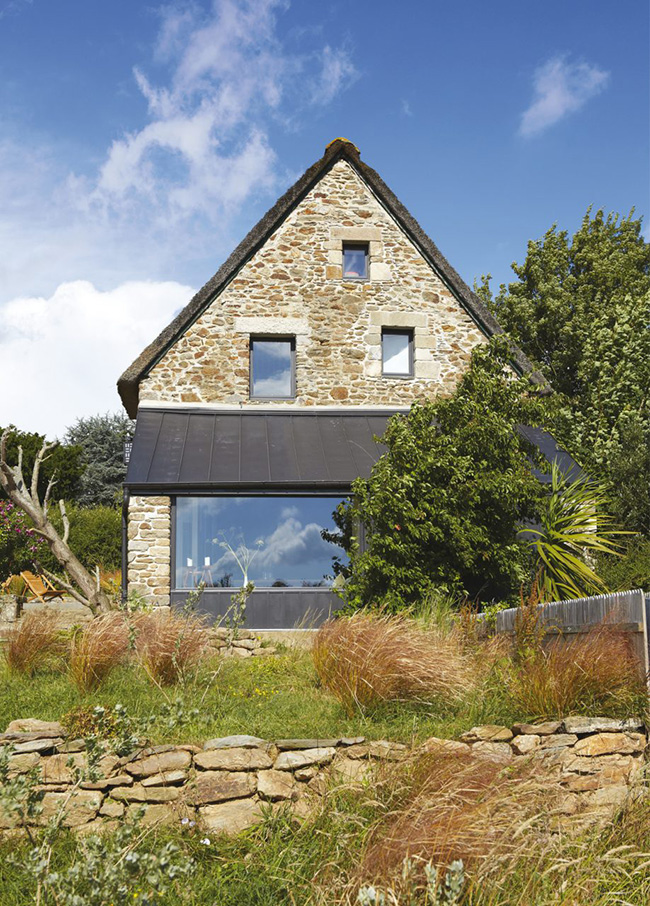 An old seaside cottage got a chic modern renovation by Guillaume Terver and Christophe Delcourt and became cozier and more inviting, with gorgeous views. Ready to see this cool combo of old and modern? Let's do it!
The cottage is clad with stone and the roof is dark, it looks very traditional from the outside. There's a large window that catches the views, and you may see an outdoor dining space with a simple vintage dining set. The inside is pretty modern and only stone clad reminds that it's an old home.
The large window has a large windowsill that can be used as a daybed, a storage space and in other ways. Next to it there's a dining space with a simple dining set, so the owners can enjoy cool views while eating. The kitchen is hidden behind a plywood space divider and is done with light-colored wooden cabinets. Here you can see a living space with a whitewashed stone clad wall and colorful textiles and furniture. It's very interesting how old details are neighboring modern ones and look natural together.
The upper floor features a couple of bedrooms and a kid's space. The kid's room isn't shown but the other two can be seen. The guest bedroom is a colorful space with a mustard wall and colorful bedding plus several wall-mounted lamps. The master bedroom isn't shown much but you can see a comfy wooden bed, some art pieces and a leather upholstered bedside table of an interesting geometric shape.