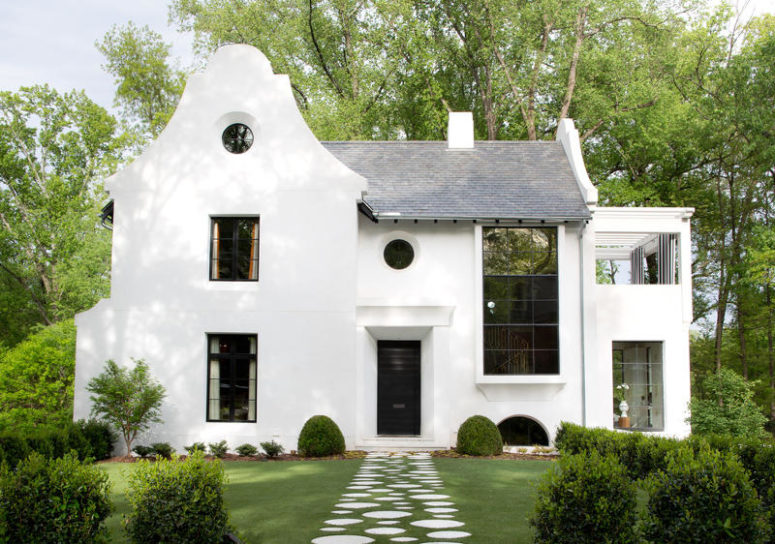 This beautiful home belongs to interior designer and owner of interiors boutique Pieces, Lee Kleinhelter. Sleek contemporary lines with more than a nod to its historical suburb and all with the glamorous, sophisticated vintage vibe that Atlanta, Georgia based Kleinhelter does so well.
The house is whimsical, it has its own unique chic and style, reminding of old Hollywood glam. The living room features grey walls, and graphite grey sofas echo with them. Stainless steel chairs covered with fur and a large rough wood coffee table of a natural shape contrast with it.
The kitchen is light and airy, there's a marble white kitchen island and another countertop opposite it. I love Lucite chairs with upholstered seats and a contrasting black wooden sideboard. The dining zone right next to it features chairs with the same blue upholstery and gold frames.
The bedroom just takes your breath away! A black matte wall, a light rough wood bed and a gilded chandelier and nightstand echo with a stunning metallic wall art, I just can't take my eyes off it! blue upholstered chairs and a white coffee table contrast with the darker and elegant part of the bedroom.
There's a closet, done in the same black and gold colors, like many spaces of the house. The cabinetry is elegant and stylish, reminds of the 20s.
The guest bedroom is popping with sunny yellow: the bed, lamps and curtains stand out in this neutral room.
The shared kids' room features a stylish bunk bed that seems to be integrated into the wall. There's a cheerful kids bathroom with a bold red cabinet and patterned mosaic tiles.