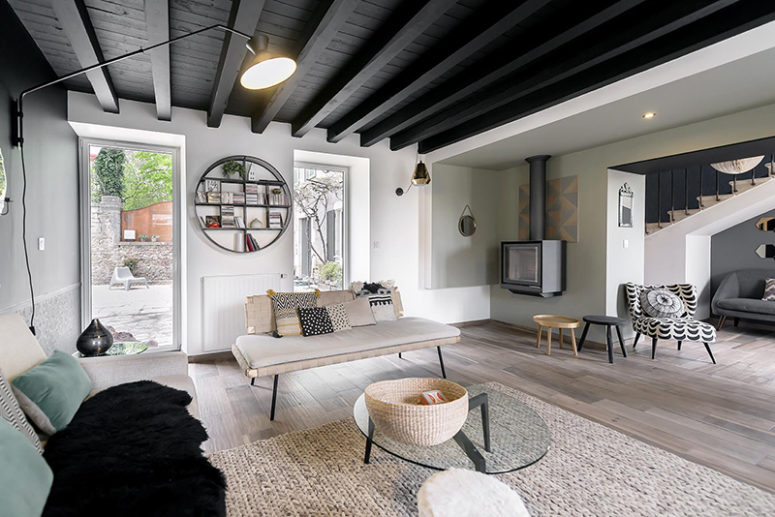 This 19th century home in France was completely renovated by architect Sophie Lallias; she added black, dark wallpaper and some more stuff that is wroth seeing, let's do it.
The living room features a black ceiling with beams, a hearth, some chic modern furnishings and a jute rug that adds a textural touch. There are some wall-mounted shelves and an arrangement of wall art pieces on a black wall. The hallway features another black wall and an original marble staircase. The kitchen is done with a black tile wall, a black fridge, black kitchen cabinets and doors. There's a decorative fireplace and a black bookcase, a black hood and black pendant lamps – the kitchen features a lot of black touches and looks very dramatic.
The master bedroom is above the kitchen and features a glazed wall to bring more light in. there's a black statement wall with faux taxidermy, a comfy bed and a floral headboard wall. The second bedroom shows off a headboard statement wall that reminds of fabric and an upholstered bed. The bathroom features a wooden floor, a dark green wall and ceiling and a wallpaper wall. there's a free-standing sink and a shower with green tiles on the floor.
This home shows how you can combine modern and vintage in one and achieve a harmonious look at the same time. Trendy touches like dark colors and floral and botanical wallpaper neighbor vintage staircases and fireplaces, wow!