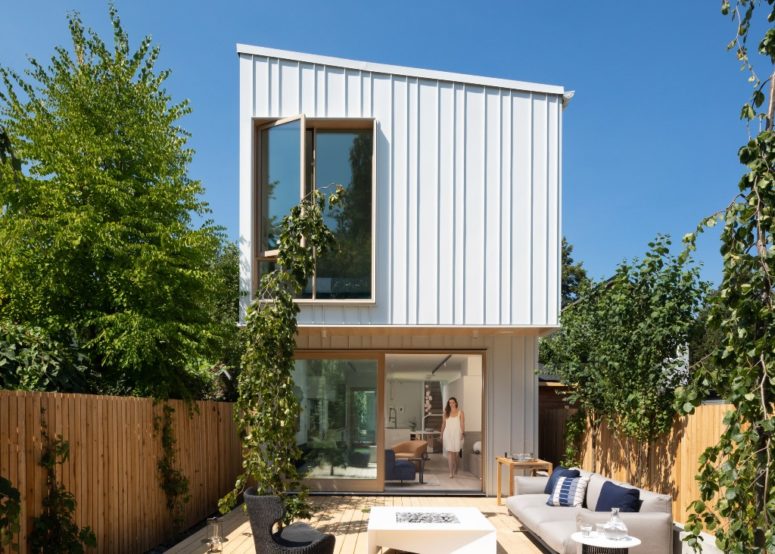 Falken Reynolds completed the interiors and layout for Saint George House adding 11 skylights, pale Scandinavian-style woodwork and bright white surfaces behind the metal-clad walls.
The two-storey residence was created for a slender site measuring 20 by 200 feet. Clad in pale grey metal panels, the building runs nearly the full length of the site – except for a back garden. There is also a small yard cut into the center. The main challenge was to fill the interiors with light though the spaces have unusual dimensions. The firm therefore planned the interior walls, ceiling heights and shapes, and openings to this effect. 11 skylights and ceiling coves created gentle diffused light and balance the directional lighting. Falken Reynolds created a simple aesthetic with pale wooden details – furniture and window frames with white and grey draws on both Nordic design and Canadian West Coast living, and grey and black accents added depth to the spaces.
An open-plan living, kitchen and dining room occupies the rear of the ground floor. Sliding glass doors open onto a decked patio in the garden, which is covered slightly by the overhanging level above. A small shed at the far end of the yard is clad the same metal as the residence, and provides a playroom for children. The upper floor is divided the floor into two parts, separated by the central void created by the courtyard below. At the front is the master bedroom and bathroom, while the two children's bedrooms with a second bathroom in-between occupy the other end.