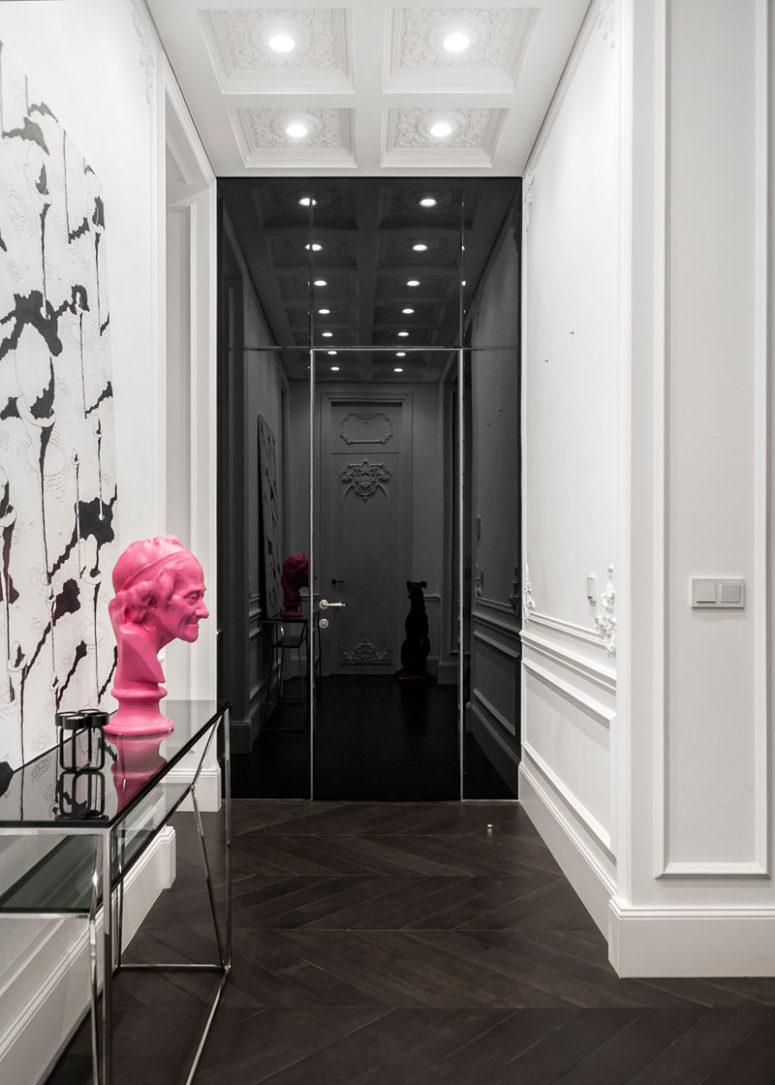 Designers Alena Makagon, Alexandr Ivasiv and Artem Zavarzin worked together to design this apartment in Kiev, Ukraine, that's inside a 19th century building.
To pay tribute to the original building that features a decorative facade, they decided to add sculptural elements to the ceilings and walls, while combining it with contemporary design and furniture to create an apartment that includes both old and new.
At the entrance to the apartment, you quickly realize that this isn't a traditional apartment. A turquoise metal house is the first thing you see. The mirrored section of the house-within-a-house is a closet and behind the closet there's a private space for a dog house. Also hidden is the ventilation unit and the colored pipes you can see are ventilation pipes that go to the ceiling.
In the main living area, the space feels large with the tall bright white walls and high ceiling. The classic wall designs contrast with the modern furniture and dark floors. A sculptural pendant light anchors the dining table in the space.
Behind the dining table is the kitchen, hidden behind tinted siding glass doors, allowing for the kitchen to be closed off from the rest of the space. On the back wall of the kitchen there's a artificially aged mirror that hides a television behind it.
In the master bedroom, built-in closets are located in the middle of the room creating two areas, one for sleeping and one for dressing. Hidden on top of the closets are led lights that gives the room a soft glow and eliminates the need for any ceiling lights. In the nursery, colorful artwork has been added to the walls and a geometric rug adds a soft surface for the child to play on.
In the main bathroom, a mural covers the wall behind the bath creating a focal point in the room. A vanity with sleek grey cabinetry and only two legs is attached to wall. A tall mirror helps the space to feel even larger than it is. In a second bathroom, a deep concrete sink appears to float and a glass shower door allows the mural to carry on uninterrupted into the shower.