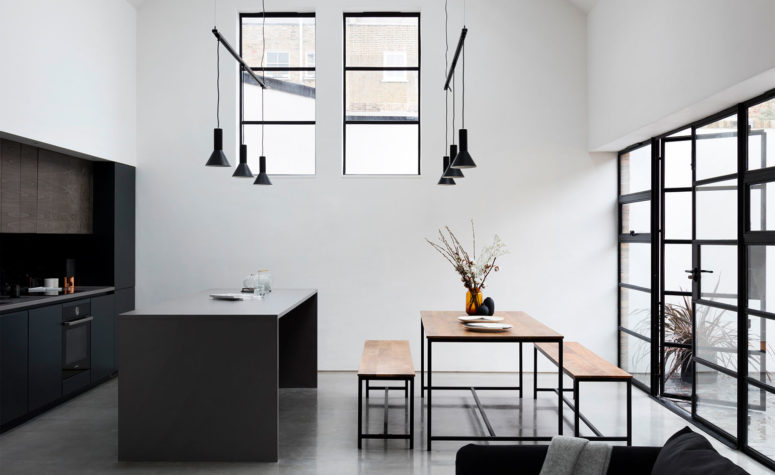 Living in a trendy high-ceilinged, two-bedroom home in a converted derelict building in Hackney is an inevitable dream for many young, creative Londoners. But for James Davies, who is an architect himself, it's a reality now because he finished his own home.
A brick building, which he restored and renovated, got new gridded steel frame windows and an inner courtyard. Unlocking the potential of the site, Davies' plan saw the restoration of the original brick envelope of the building, retaining the historic design while working with an engineer to minimize the visible interior structure, opening up the double-height space.
Davies selected concrete and steel surfaces for the interiors, creating a smooth and stylized industrial aesthetic. The interior palette is limited to grey and black plus light-colored natural wood for a warm feel, and such a combo accentuates the industrial and minimalist aesthetics. The pendant lamps emphasized the double-height ceilings. Large windows were added to bring light into the space, and the owner consider it very important as natural light influences the mood and well-being.
My favorite space is the kitchen here because of its minimal aesthetics and a masculine feel. There's a black marble backsplash, black cabinets and dark stained wooden ones. A concrete kitchen island contrasts with them and makes the décor stand out. What's your favorite room here?