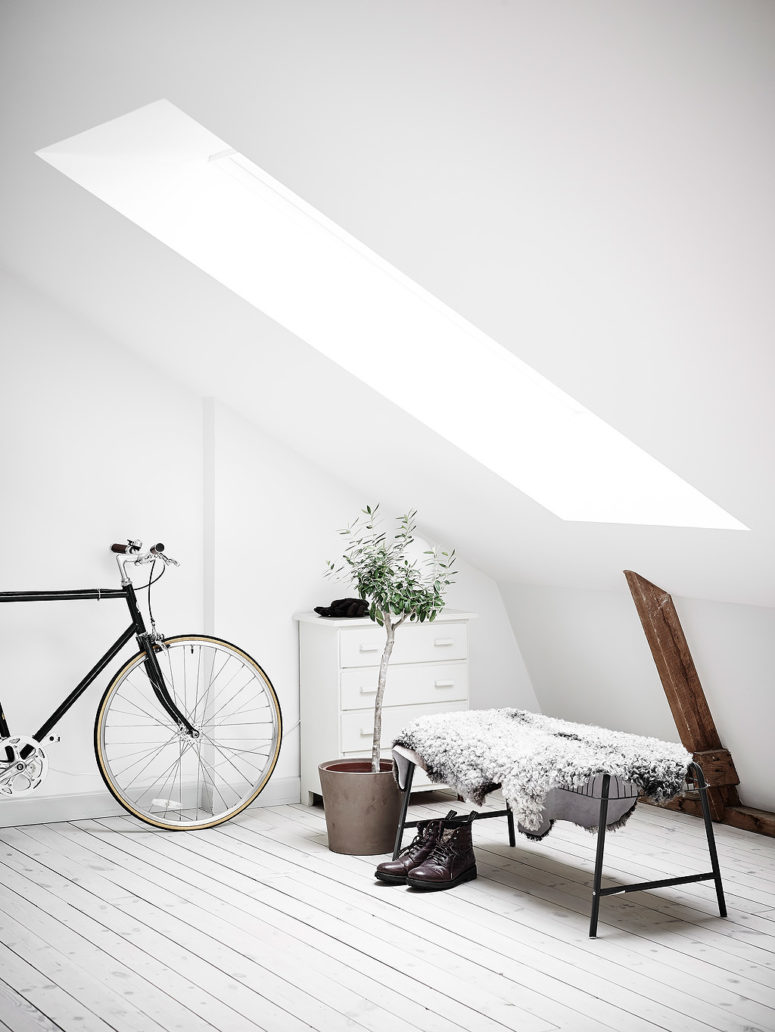 It's time for a Scandinavian eye-candy! This whitewashed Swedish apartment is serene, fresh, inviting and filled with light, it's a real peaceful oasis.
The whole apartment is done in white, and just look at the shabby whitewashed floors – they perfectly fit and give a textural look to the décor. Lots of windows including attic ones fill the spaces with light, that's important in harsh Scandinavian climate with a lack of sunlight. As for other colors – you can see just some greys and blacks here and there and some natural wooden furniture.
The entrance boasts of a cool attic window and a simple bench, there's a cabinet and some space for the bike. What else do we need for an entryway?
The kitchen and dining space are filled with light through the attic windows. The kitchen is minimalist grey, with modern grey and white cabinets and a lot of potted greenery to enliven it. The dining space is a shabby chic one, with vintage wooden furniture.
The living space is decorated simply, with a couple of white and grey sofas, a lot of pillows and comfortable textiles that make the space cozier. Mid-century modern lights are to enlighten the area completely as there isn't much light from the balcony door.
The small bedroom is cozy and comfortable, it's done in grey and white and features a couple of industrial and shabby chic touches. There's a small home office space next to the window, with a small shabby chic white desk.
The apartment is great both to welcome guests and to live in quietness, it's functional, comfortable and whitewashed shabby chic touches make it even more Scandinavian.