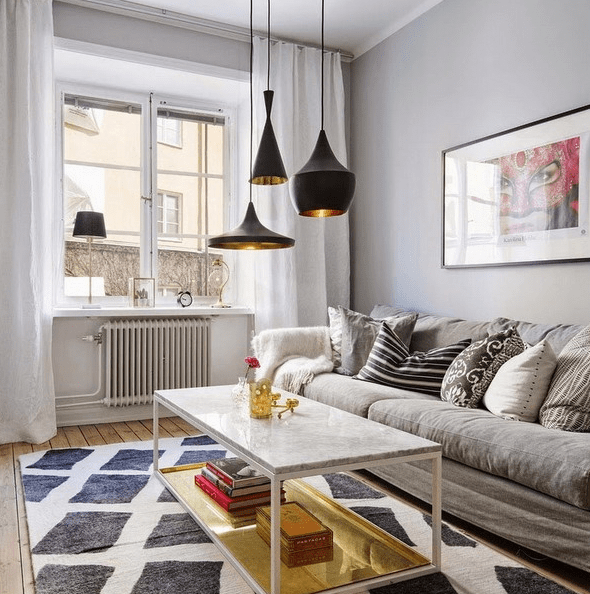 This small apartment of just 31 square meters is designed to accommodate everything necessary, smart planning, storage and Swedish simplicity are characteristic features of this space.
The color scheme is neutral: whites and greys but there are some black and gold accents like these lamps by Tom Dixon, which make the space much more eye-catching. Despite of the small surface, there's enough space for an entryway, bedroom, living room and kitchen and the apartment is no less cozy than any big one.
The closet is hidden with a curtain, which takes less space than any door, and a Malmo sideboard by IKEA is another great storage solution. There are cool metallic accents all over the apartment to make it look more chic and eye-catching. You can also see some black touches here and there, they make the apartment more eye-catching.
The kitchen is white but not sterile thanks to the metallic accents: appliances, pots, trays and other stuff, so the space looks livelier. The designers used a creative idea to fill the kitchen with light: there's enough light due to the window that goes to the bedroom, though not outside but still.
The bedroom is tiny, there's nothing unnecessary, there's no nightstand even, a window sill is used instead. Metallic decorations and pendant lamps make the space stylish and it echoes with the décor in other spaces.
The bathroom is laconic, with subway tiles and metallic accents, just some dark towels make it echo with the rest of the apartment. I also like the marble floors, which are a chic and textural solution.