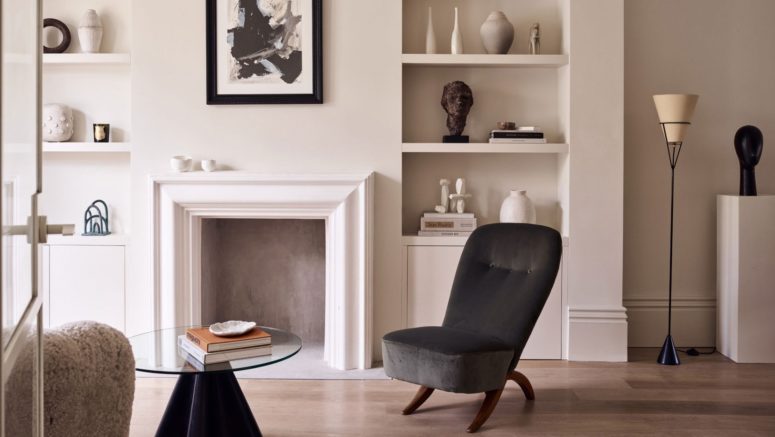 London-based interior design practice Daytrip Studio renovated Powerscroft Road, a renovated Victorian terraced house of subtle sophistication in Clapton in northeast London. The interiors are a combo of the past and modernity, they are done with a refined and calm sensibility that manages to combine the soothing gracefulness of craftsmanship and the clean cut polish of modernism.
Daytrip Studio's renovation respects the house's Victorian charm, treating the original building fabric with discretion and simplicity. The existing floorboards have been meticulously restored, openings between rooms have been widened and fitted with minimalist steel doors, while new light-wells increase natural light penetration wherever possible.
The most radical part of the renovation proved to be the excavation of the basement which has created a spacious, light-filled lower grown kitchen and living room seamlessly connected to the garden by floor-to-ceiling glazing and a continuous polished concrete floor. Featuring a beautifully crafted bespoke kitchen in Douglas fir and honed Evora marble, the space's tonal subtlety and minimalist ease is reflected in the design of the landscaped garden.
A palette of subdued colors and soothing textures such as pale, lime-washed walls, off-white powder coated metalwork, polished concrete floors and natural wood finishes swathes both the old and new parts of the interiors in sublime elegance, as do the classic Calacatta marble and deep blue crackle glazed Lavastone respectively adorning the master and family bathrooms. An eclectic selection of antique, mid-century and contemporary furniture pieces and a carefully curated art collection of tactile beauty and minimalist grace make the space really unique and give it a character.