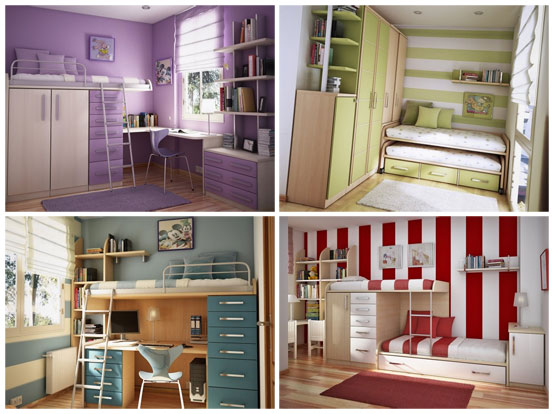 Over the years we gathered a lot of cool teen room designs here on DigsDigs. I wanna to make a roundup of all of them for you to make easier your search for inspiration.
There are some things you need to know before designing a teen bedroom. This room should reflects your teenager's personality, have enough storage to keep it uncluttered, and provide everything necessary for comfortable sleeping and studying. Its design should feature bright colors, playful details and age-appropriate decor so your teenager wouldn't mind to hang out with friends there. Believe me, you doesn't want them at your living room or anywhere near to your dining area.
Of course you also want to make a budget friendly makeover of your kids room. That's possible if you are creative enough to use standard furniture or to make it by yourself. Other decorative things won't cost you as much as thoughtful furniture. Making teen room as cozy as you can and as multi-functional as possible in the amount of space available is really necessary because that will make your kid happy.
Here is the roundup of teen room ideas that we gathered here on DigsDigs over the years. Just click on pictures to see all ideas related to them.
17 Cool Teen Room Ideas
10 Contemporary Teen Bedroom Design Ideas
15 Cool Ideas For Pink Girls Bedrooms
60 Cool Teen Bedroom Design Ideas
50 Thoughtful Teenage Bedroom Layouts
12 Minimalist Teen Bedroom Decor Ideas
Cool Youth Bedroom Designs by Huelsta
Modern Teen Room Designs by Pianca