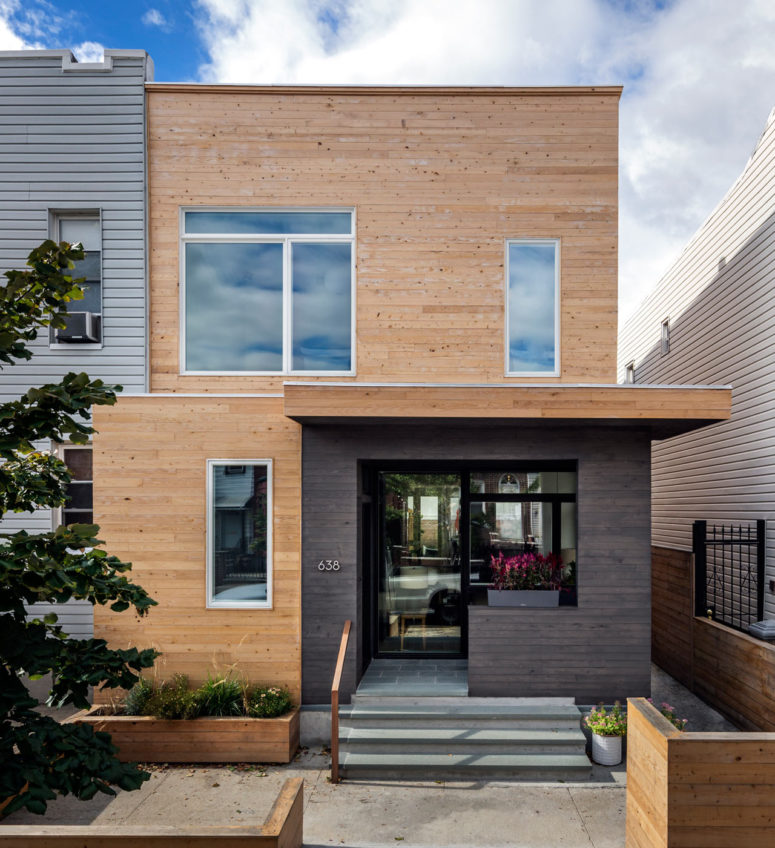 This wood frame town house by BFDO Architects is only 20-foot-wide and has a tiny side yard and front and back extensions. How to live comfortably with such a layout? The architect and designer team showed that it's totally possible and can be done with style.
The team revamped the layout and modified room sizes by cutting into and expanding the volume in certain areas. In the front, a covered porch and mudroom were carved into the volume allowing the door to be set perpendicular to the street. The back extension was enlarged to 15-feet-wide making way for a new kitchen and office nook.
The architects incorporated skylights, corner windows, and floor-to-ceiling windows to bring in much needed natural light to the end unit. Corner windows bring in additional natural light while increasing diagonal views. To ensure the newly lightened front portion remained that way, the stairs were moved to the other side and are now lit from an above skylight.
As for interior decor, the rooms are contemporary with a slight mid-century modern feel. The living room and dining space are united into one layout, the kitchen features a small and light-filled home office nook. The bathrooms combine bold tiles with oak details for a casual but sophisticated look.