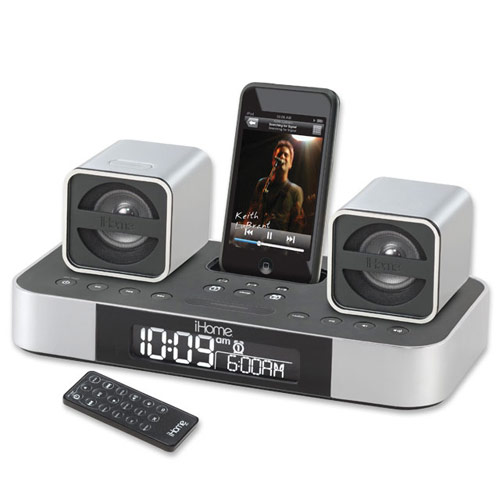 iPhone docks with built-in alarm clock are very cool things to have at home. Especially great to have one at bedroom. You always need to recharge your phone, sometimes there are moments when the music is needed and of course the clock with alarm is must have for every person who needs to wake up in a specific time. Some iPhone docks combine all that and more feautres at once. Here is the list with best of them:
UPD: Check out 10 best iPhone docks for the beginning of 2010 on ours sister's site.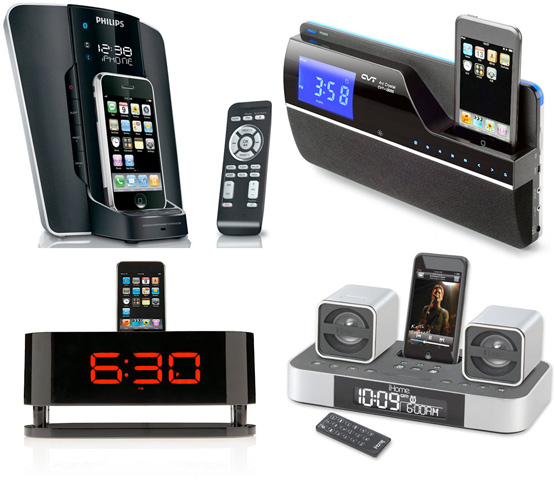 Philips DC350 Dock
Philips Docking Entertainment System DC350 is an iPod/iPhone dock with 6-W RMS output power and hands-free call functions. It comes with a high quality clock radio. It is also Bluetooth enabled and it is able to do schedule/calendar synchronizing with your computer.
The CVT i3101 iPhone alarm dock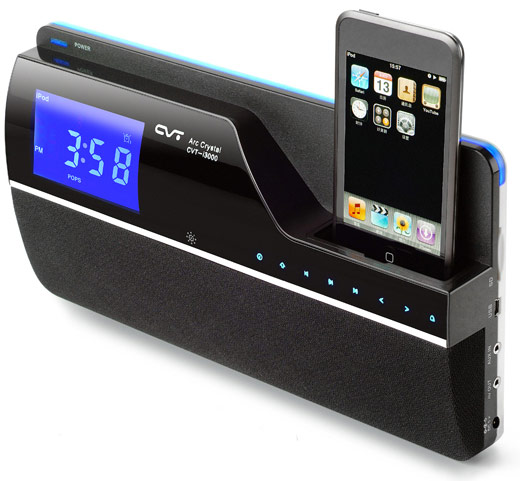 The CVT i3101 media center alarm clock is slim enough to hang next to your bed, and is especially nice if you have a narrow room without space for a table. It could be used with all iPod and iPhones. The clock offers a bright 3.5 inches blue LED display and sleek touch controls for changing channels and controlling your media player. [buy on 100milligrams]
iHome iH51 multimedia system with alarm clock radio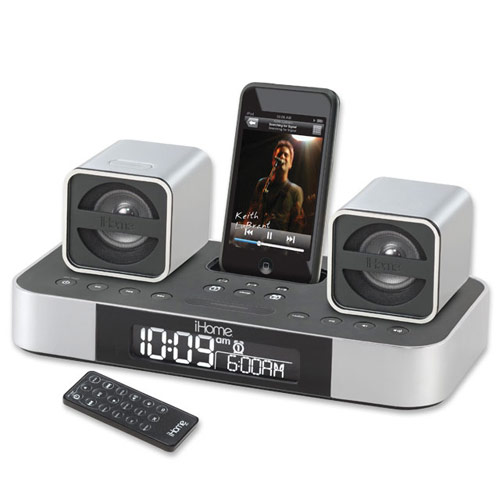 This dock has dual alarm clock radio, bass, treble, balance controls and a video out jack. It also comes with a separate active subwoofer for the bass. The remote control for the dock could control your iPhone/iPod.
Sonoro iPhone/iPod dock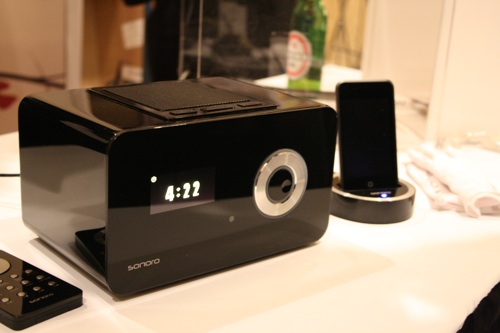 Sonoro dock is black, shiny with soft lights CD sound system with comfortable remote control. It has alarm clock, radio set, OLED display, along with 7.5W of power output, a headset jack, a standard 3.5mm input to accomodate your non-iPod devices.
Sony's ICF-CD3iP iPhone clock/CD radio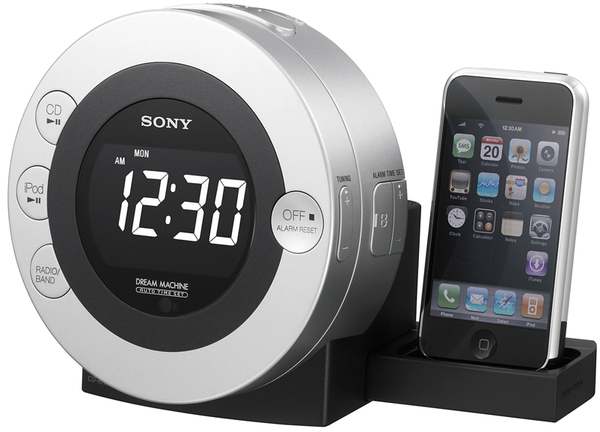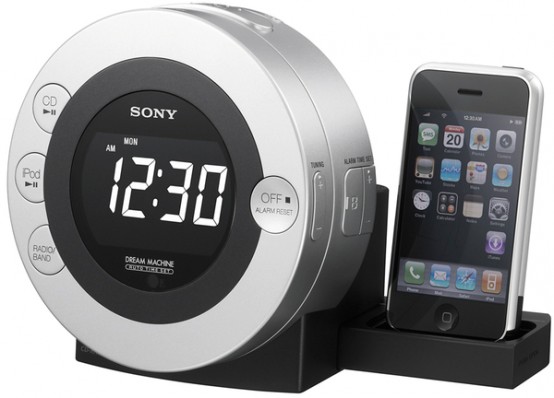 ICF-CD3iP is fully compatible with the iPod and iPhone and can charge and playback music accordingly. Two alarms can co-exist, meaning the alarm set on the clock and the iPhone/iPod will work together. Music can be played using any of the sources which includes MP3 CDs and CD-R/RW audio discs. It also has remote will be able to control the iPod/iPhone, CD and Radio functions.
iLuv iMM173 Alarm Clock and Dual Dock for iPod and iPhone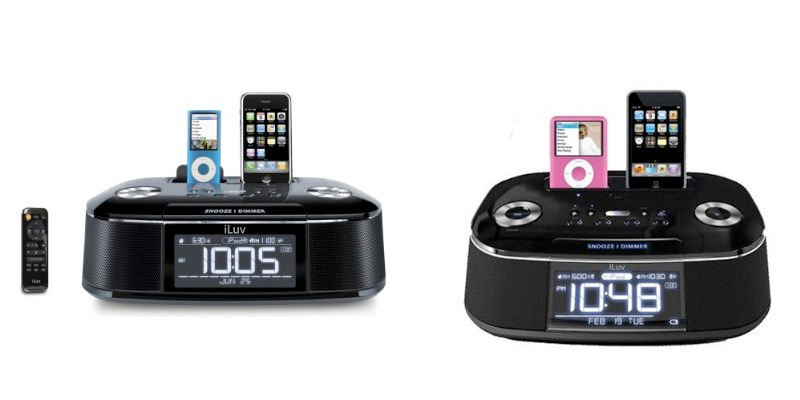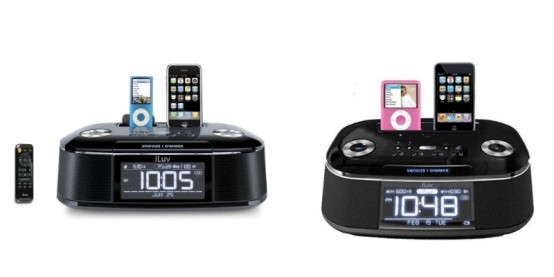 Putting two iPhone / iPod docks in an alarm clock is a great idea. The glossy black system by iLuv features silver volume and tuning dials on the top that makes the iPhone v1 look right at home when docked. Thanks to the system's powerful built-in speakers and jAura acoustic speaker technology, you'll get sound with depth and clarity that belies its small size. Although there is one limitation – you can't listen AM radio with it.
GrooveNeo iPhone clock with dock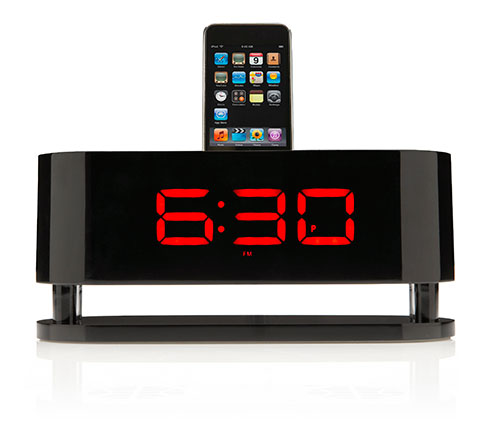 This iPhone/iPod dock is perfect for those who are bleary-eyed in the morning. It accepts any iPod or iPhone into its dock, has couple of 2.75-inch speakers and touch-sensitive controls.