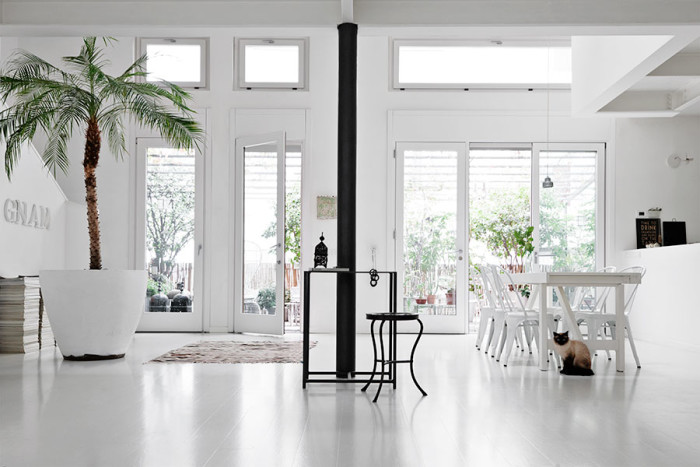 Laura Dragotti owner of Riad store in Milan, lives in a family house in Scandinavian style that she has completely decorated in white.
The house is 260 square meters, it has two floors and a patio. The kitchen is all white, filled with much light because of double-height windows. The kitchen is like a white box with a play of texture, with vintage furniture and modern sleek surfaces and some lamps hanging from above. Dark floors and carpets create a bold contrast with the whole white space. The dining area is right here, next to the large windows to get the views from the patio.
The living room shows up the classics of Scandinavian style: all white, with various rustic touches like burlap textiles, mid-century modern tables and a faux fireplace in minimalist style. I like simple industrial pendant lamps that seem to be wrapped around the ceiling beam. There's much greenery in every space of the house, and that gives a feeling of living in the countryside, I'd say Scandinavian countryside.
The master bedroom is clean and serene: covered with white, it features a big canopy bed, wall lamps and dark mid-century modern nightstands. Striped black and white textiles create more contrast in the room.
The patio is urban jungle that separates the house form the city around. There's a small forest of palm trees, various flowers and Mediterranean shrubs that climb the arbor and create a green roof in the spring. You can also see some stylish woven furniture by Patricia Urquiola.