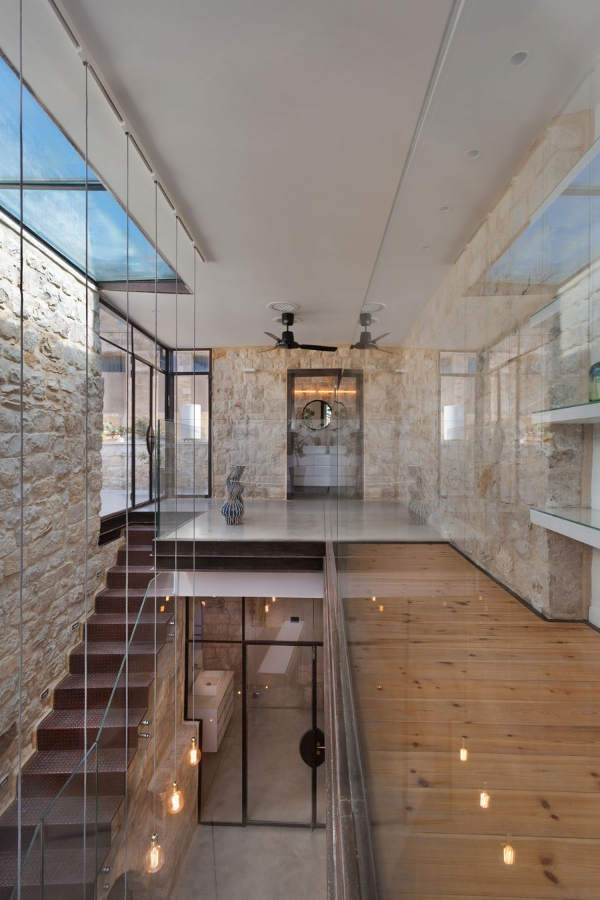 This unique home conversion was done by Henkin Shavit Architecture & Design in the ancient city of Safed, Israel. The home décor and design shows how to combine old stone and modern materials to achieve a modern take on a historical look.
The stone walls inside make up a characteristic feature of this residence and give it a character. The floors are of concrete and light-colored wood not to distract attention from the rough stone walls. I love the use of glass in the interiors: it contrasts with rough stone and creates a unique look.
The home has rather a narrow footage yet the designers managed to accommodate everything necessary here. The living room features colorful floor cushions and chairs, a long and narrow table and stools – this is a dining zone also.
The master bedroom is located in a stone alcove, the doors are made of frosted glass to keep some privacy. As the windows are original and very small, there are several layers of light. The stones are left as they are and there are no decorations because the focus is the stone.
The bathroom is located in its own alcove, with glass doors and black edging. The décor is pretty simple, some white tiles and that's all because the designers didn't want to hide the original walls.
This home is a nice example of how to preserve your heritage making it modern, comfortable and how to get a unique result like no other.