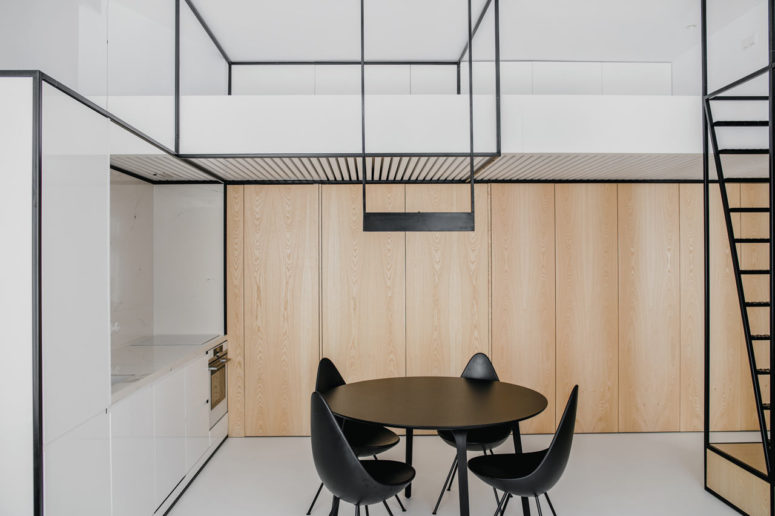 WIREFRAME is a modest apartment, spanning just 46 square meters (495 square feet), designed by MUS ARCHITECTS in Kraków, Poland, near the Wawel Castle. But there's something special about it – it's black framing that ties the whole apartment and gives it a modern and chic look.
While the footprint is on the small side, the tall ceilings allowed the designers to re-imagine the plan to include a mezzanine. The mezzanine allowed for a bedroom to be built up and out of the way allowing the living room to be more open and spacious. The bedroom is all-white, with a huge platform, which acts as a bed. The storage is hidden inside white cabinets with no handles for a sleek look.
The interior utilizes white ash wood, black frames, and white surfaces to create a modern, yet minimalist palette. What sets the interior apart from the rest, is the black frames built to help the functionality of the apartment.
An open kitchen, living room and dining room comprise one open layout under the mezzanine level. The kitchen features white cabinets and a marble backsplash, the dining zone shows off a black dining set with a round table, and the living space has cozy grey upholstered furniture. The children's room features built-in white cabinets with a circle motif along with a bedroom loft area that's reached by a compact staircase.