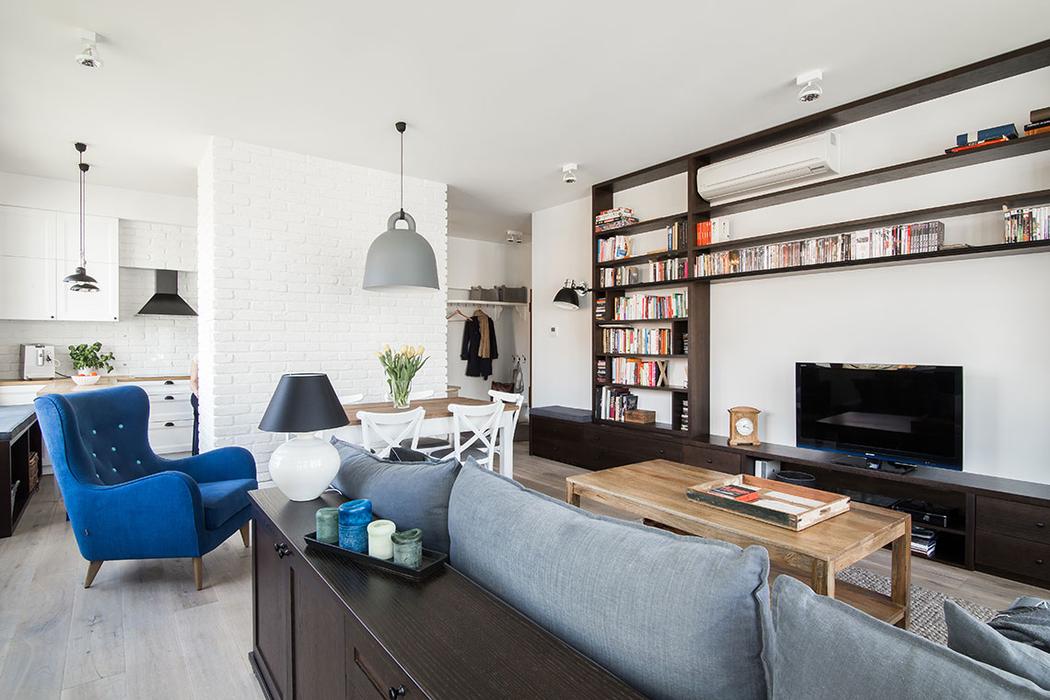 This airy apartment was designed for a family of three, and the aim was to fit the character and personality of the owners as much as possible. The interior is beautiful, simple and mixes Scandinavian, minimalist styles with Provence touches in a very harmonious way.
The walls are all-white, somewhere faux brick ones, the floors are weathered and whitewashed to keep the Scandinavian ambience. The living room is bathing in daylight due to the large windows. In such muted and peaceful colors the dark veneer furniture of the living room looks gorgeous and rather statement-making. And a bold blue upholstered chair is in the center of attention!
The kitchen is very small but its functionality was raised with the help of a creative solution – an extension of the worktop, which becomes a dining table with delicate legs next to the upholstered window bench. The white décor is accentuated with the help of light-colored wooden surfaces.
The master bedroom is a calming and soothing space where wood rules. The wall behind the bed is clad with warm-colored, rather dark wood, the nightstands are covered with lighter wood, and the window frames are super-light ones. The headboard and shades are matching, in warm cacao colors, and the draperies are dark brown to make the room soothing.
I admire the master bathroom decorated with light-colored natural wood, which is a super hot trend right now. There's a large window that fill the space with daylight, and draperies for the owners to keep privacy. Draperies, a lamp and textiles are black here but they look luxurious in the background of calm-colored natural wood.
The home office corner is also full of light as it's placed by the window. It's highlighted with a dark wooden bookcase and bold square rug and turquoise curtains – such a bold and inspiring atmosphere to work!
A small guest toilet also acts laundry. Dark paneling on the walls here hides a space, behind which there is a washing machine and a dryer – such a clever trick to declutter the space!