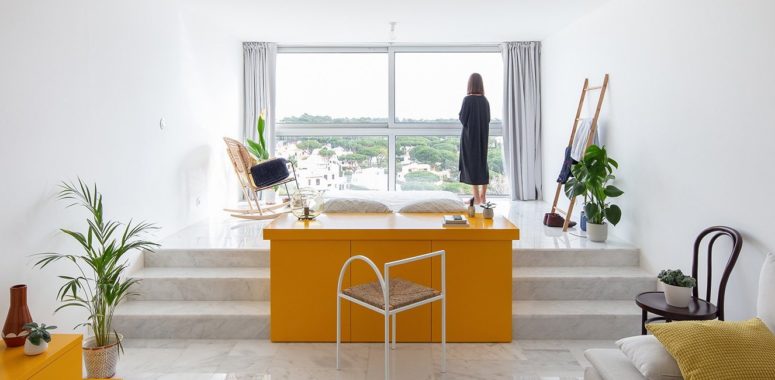 Corpo Atelier has renovated a studio apartment in Vilamoura, Portugal, nearly dissipating the line between architecture and sculpture. Inside a white box, three differently configured yellow objects are individually placed. Inside, the perception of a person's movement, of the box's limits and of the position of the yellow objects is inevitably intertwined.
Under closer inspection, the pieces' shapes might resemble an abstraction of the classical architectural elements: an architrave, a fallen column and a plinth, arranged separately as a puzzle, only to be revealed when mentally placed together, evoking the experience of a site-specific sculptural piece that engages with the containing space of a gallery room. Or perhaps, these yellow objects only hold objective value as pieces of furniture, produced to store other smaller objects both inside and on them.
The living room features a comfy sofa, chair and a small yellow sideboard plus a desk that separates the sleeping and living zones. The sleeping space shows off a glazed wall with a panoramic view and a large bed next to it. The arrangement of the elements might be justified simply as a naive attempt to create some kind of spatial hierarchy in a wall-less apartment, marking and defining different areas according to a specific domestic use: an entrance hall, a central living room and a bedroom with a panoramic view. It´s never truly clear which of these possibilities might be accurate, or, if any actually is. This is a very philosophical space for experience of living, get inspired!