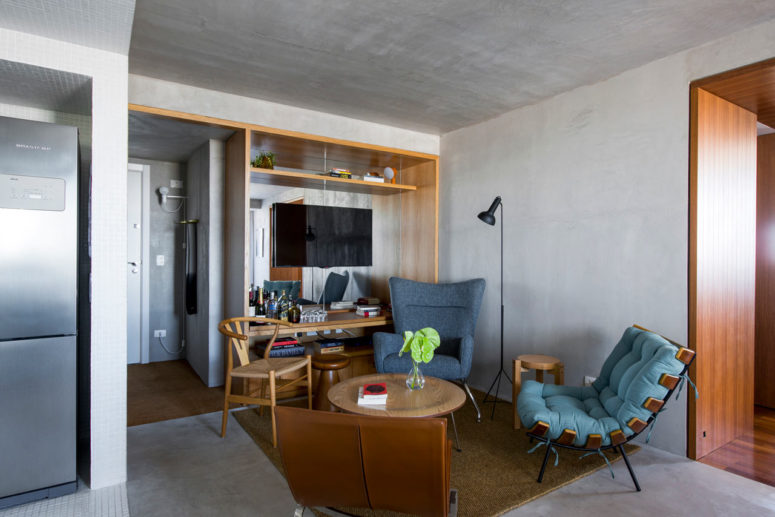 Located in Curitiba, Brazil, the Azul Apartment is a modern space designed by Leandro Garcia for a young, single executive who loves to entertain. Spanning 80 square meters, the apartment was reconfigured for flexibility of spaces and open sight lines.
The main living space combines a long narrow kitchen and living room plus a dining zone by the window, such a layout allows to receive many guests at a time and communicate with them while cooking and serving. The kitchen has a lower ceiling height and all white finishes setting it apart from the seating area. The walls, floor, and ceilings in the living and dining room area have the same cement finish which contrasts the warm woods and shades of blue seen throughout. The furniture is comfy and contemporary.
A wood clad passageway connects the living room with the office/TV room, with doors that access the bedroom and a bathroom. The office space used to be divided into two small rooms but they removed the wall to create a larger, more useful space. One wall is taken by a cabinets and storage shelves, and there's a desk and a comfy sofa in front of the TV here.
The bedroom features a floating bed and an upholstered headboard attached right to the wall. There are floating nightstands attached on both sides of the bed. The bathroom is clad with stone and there's a stone free-standing sink. The home is modern, comfy and ideal for entertainment.