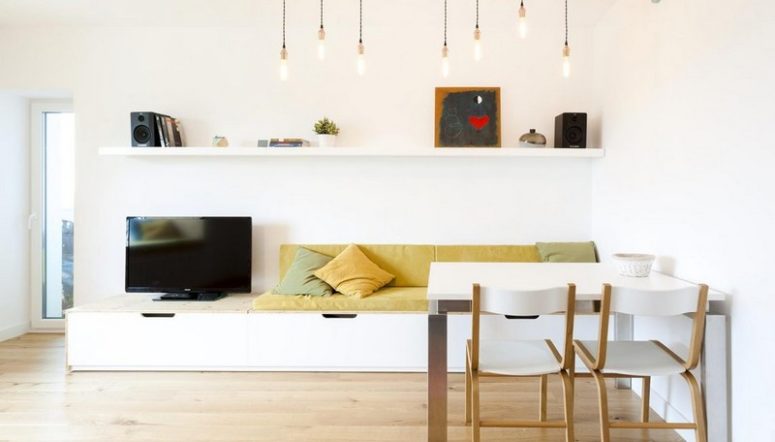 This apartment in Bucharest, Romania, shows off some ingenious design ideas. The 77 square-meter (828 square-foot) home is filled with light and storage solutions that maximize space.
The owners of the apartment, a young couple with a passion for minimalism, embraced the idea of Scandinavian influences in their home. The task was passed on to the architects at CRAFTR, who creatively merged function and refinement in the design process.
The living room is captivating to say the least. Your eyes are instantly drawn toward the window, which comes with an inspiring storage system. Moreover, the punctured areas below and above the glass hide away the heater and air conditioning system. The TV unit extends with a small sofa. This complements the dining table, which can expand to welcome more guests. If we're to talk about other original features of this home, lighting is definitely one of them. In the living area, you notice the light turquoise frame made of cast iron which supports decorative light bulbs. This idea is replicated in the kitchen as well.
An accent wall made of cork makes one of the two bedrooms in the house feel slightly more dynamic. We also like the minimalist light bulbs suspended on Ikea wooden frames.
The kitchen features minimalist white cabinets with no handles, the color is added with yellow and mint inside. The backsplash is clad with white tiles, there's also a coffee station marked with a chalkboard wall and just look at that cute chalk image – so romantic!