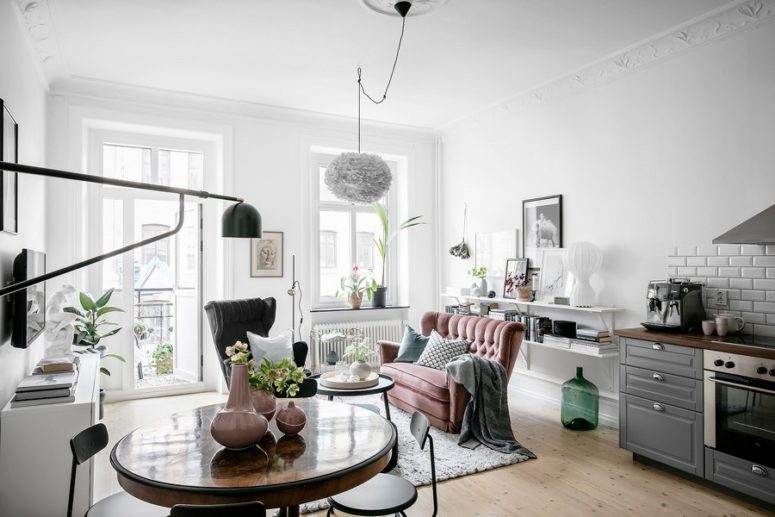 This welcoming Scandinavian apartment is located in the heart of Gothenburg, Sweden, on the third floor of a heritage building. Much of the original turn-of-the-century charm is preserved in the form of high ceilings, wood flooring, profiled moldings, ceiling medallions and cast iron radiators.
The color scheme chosen for decor is Scandinavian but with a twist: traditional black, grey and white are spruced up with dusty pink and blue in the living room, pink and blue in the kid's room and soft pastels in the bedroom. Such shades make the apartment much cozier and more inviting.
The hallway that greets you as you step inside this three-room apartment seems comfortably large, thanks to its white walls and bright tiled flooring. As you go farther, you find the wonderful living room with an exit to the balcony that takes center stage.
The kitchen and dining space layout is optimal for those who like to invite friends over for dinner. From the small terrace, guests can enjoy a glass of wine in the sun before continuing the evening in one of the restaurants downtown.
At the far end of the apartment, quietly located toward the courtyard, is the master bedroom. The atmosphere here is peaceful and restful. The room is large and can easily fit a double bed, reading area and small desk. To the right of the hallway, there is a second bedroom that also overlooks the courtyard.